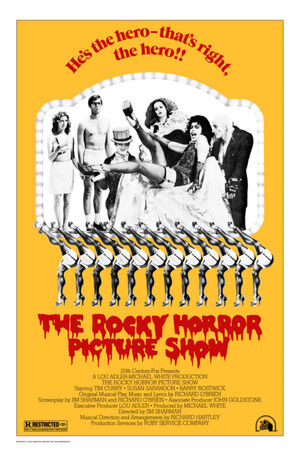 The Rocky Horror Picture Show is a 1975 British musical comedy horror film and an adaptation of The Rocky Horror Show, a musical stage play, book, music, and lyrics by Richard O'Brien. Directed by Jim Sharman from a screenplay by Sharman and O'Brien, the production is a humorous tribute to the science fiction and horror B movies of the late 1940s through early 1970s. It introduces Tim Curry and features Susan Sarandon and Barry Bostwick along with cast members from the original Kings Road production presented at the Royal Court Theatre, London, in 1973.
Still in limited release nearly four decades after its premiere, it has the longest-running theatrical release in film history. It gained notoriety as a midnight movie in 1977 when audiences began participating with the film in theatres. The film has a large international cult following and is one of the most well-known and financially successful midnight movies of all time. In 2005, the film was selected for preservation in the United States National Film Registry by the Library of Congress as being "culturally, historically, or aesthetically significant".
After a title sequence which features disembodied lips singing Science Fiction Double Feature, a criminologist (Charles Gray) narrates the tale of the newly engaged couple Brad Majors (Barry Bostwick) and Janet Weiss (Susan Sarandon) ("Dammit Janet") who find themselves lost and with a flat tire on a cold and rainy late evening. Seeking a telephone, the couple walk to a nearby castle ("There's a Light (Over at the Frankenstein Place)") where they discover a group of strange and outlandish people who are holding an Annual Transylvanian Convention ("Time Warp"). They are soon swept into the world of Dr. Frank N. Furter (Tim Curry), a self-proclaimed transvestite from Transsexual, Transylvania. ("Sweet Transvestite") The ensemble of convention attendees also includes servants Riff Raff (Richard O'Brien), his sister Magenta (Patricia Quinn), and a groupie named Columbia (Nell Campbell).
In his lab, Frank claims to have discovered the "secret to life itself". His creation, Rocky (Peter Hinwood), is brought to life ("The Sword of Damocles"). The ensuing celebration ("I Can Make You a Man") is soon interrupted by Eddie (Meat Loaf), an ex-delivery boy, partial brain donor to Rocky, and Columbia's lover, who rides out of a deep freeze on a motorcycle ("Hot Patootie (Bless My Soul)"). In a jealous rage, Frank corners him and kills him with an ice axe. He then departs with Rocky to a bridal suite ("I Can Make You a Man" reprise).
Brad and Janet are shown to separate bedrooms where each is visited and seduced by Frank, who poses as Brad (when visiting Janet) and then as Janet (when visiting Brad). Janet, upset and emotional, wanders off to look for Brad, who she discovers, via a television monitor, is in bed with Frank. She then discovers Rocky, cowering in his birth tank, hiding from Riff Raff, who has been tormenting him. While tending to his wounds, Janet becomes intimate with Rocky, as Magenta and Columbia watch from their bedroom monitor ("Touch-a, Touch-a, Touch-a, Touch Me").
After discovering that his creation is missing, Frank returns to the lab with Brad and Riff Raff, where Frank learns that an intruder has entered the building. Dr. Everett Scott (Jonathan Adams), Brad and Janet's old high school science teacher, has come looking for his nephew, Eddie, but Frank suspects that Dr. Scott investigates UFOs for the government. Upon learning of Brad and Janet's connection to Dr. Scott, Frank suspects them of working for him. Frank, Dr. Scott, Brad, and Riff Raff then discover Janet and Rocky together under the sheets in Rocky's birth tank, upsetting Frank and Brad. After much hemming and hawing, Magenta interrupts the hubbub by sounding a massive gong and stating that dinner is prepared.
Rocky and the guests are served dinner ("Eddie"), which they soon realize has been prepared from Eddie's mutilated body. Janet runs screaming into Rocky's arms and is slapped and chased through the halls of the castle by a jealous Frank ("Planet Schmanet Janet (Wise Up Janet Weiss)"). Janet, Brad, Dr. Scott, Rocky, and Columbia all meet in Frank's lab, where Frank captures them with the Medusa Transducer, transforming them into statues. They are then forced to perform a live cabaret floor show with Frank as the leader ("Rose Tint My World"/"Don't Dream It, Be It"/"Wild and Untamed Thing").
Riff Raff and Magenta interrupt the performance, revealing themselves and Frank to be aliens from the planet Transsexual in the galaxy of Transylvania. They stage a coup and announce a plan to return to their home world. In the process, they kill Columbia, Rocky and Frank, who has "failed his mission". They release Brad, Janet, and Dr. Scott, then depart by lifting off in the castle itself. The narrator concludes that the human race is equivalent to insects crawling on the planet's surface, while Brad and Janet sing about the results of their actions in the castle.
As the credits start to roll, the voice of the lips from the beginning of the film sings about the fate of the characters ("Science Fiction/Double Feature" reprise).
See also: The Rocky Horror Picture Show (soundtrack)#"Science Fiction/Double Feature" - The Lips (those of Patricia Quinn; voice of Richard O'Brien)
"Dammit Janet" - Brad, Janet, and Chorus
"There's a Light (Over at the Frankenstein Place)" - Janet, Brad, Riff Raff, and Chorus
"The Time Warp" - Riff Raff, Magenta, The Criminologist, Columbia, and Transylvanians
"Sweet Transvestite" - Frank with
"The Sword of Damocles" - Rocky and Transylvanians
"I Can Make You a Man" - Frank with Brad, Janet, Riff Raff, Magenta, and Columbia
"Whatever Happened to Saturday Night" - Eddie and Transylvanians
"I Can Make You a Man" (reprise) - Frank, Janet, and Transylvanians
"Touch-a, Touch-a, Touch-a, Touch Me" - Janet with Magenta, Columbia, Rocky, Brad, Frank, and Riff Raff
"Once in a While" (deleted scene) - Brad
"Eddie" - Dr. Scott, Janet, Frank, Rocky, Brad, Riff Raff, and Magenta
"Planet Schmanet Janet (Wise Up Janet Weiss)" - Frank, Janet, Brad, and Dr. Scott
"Rose Tint My World" - Columbia, Rocky, Janet, and Brad
"Fanfare/Don't Dream It, Be It" - Frank with Brad, Janet, Rocky, and Columbia
"Wild and Untamed Thing" - Frank with Brad, Janet, Rocky, Columbia, and Riff Raff
"I'm Going Home" - Frank and Chorus
"The Time Warp" (reprise) - Riff Raff and Magenta
"Super Heroes" (only present in the original UK release) - Brad, Janet, and Chorus
"Science Fiction/Double Feature" (reprise) - The Lips
The soundtrack was released in 1975 by Ode Records and produced by Richard Hartley. The album peaked at #49 on the Billboard 200 in 1978.[4] It reached #40 on the Australian albums chart[5] and No. 11 on the New Zealand albums chart.[6] William Ruhlmann of Allmusic gave the album a star rating of five stars out of five and described it as the "definitive version of the [Rocky Horror] score."[7]
[1]
[2]
Oakley Court has been refurbished and is now a hotel
The Rocky Horror Picture Show was shot at Bray Studios and Oakley Court, a country house in Berkshire, England, from 21 October to 19 December 1974. Filming of the laboratory scene and the title character's creation occurred on 30 October 1974.[8]
The film's plot, setting, and style echoes that of the Hammer Horror films, which had their own instantly recognizable style (just as Universal Studios' horror films did), and is reminiscent of the Hammer production of The Revenge of Frankenstein starring Peter Cushing.[9]
The castle is known for a number of Hammer films.[10] A great deal of location shooting took place there. At the time, the manor was not in good condition.[11] Filming took place during autumn, which made conditions harsh. During filming, Susan Sarandon fell ill with pneumonia.[12] In 1997 Oakley Court had its latest renovation and the building is now a luxury hotel.[13]
In the stage productions, actors generally did their own makeup, but for the film, the producers chose Pierre La Roche to redesign the makeup for each character (he had previously designed makeup for Mick Jagger).[14] Production stills were taken by rock photographer, Mick Rock who has published a number of books from his work.[15]
The film is considered to be the longest-running release in film history.[16] It has never been pulled by 20th Century Fox from its original 1975 release, and it continues to play in cinemas.[17][18] The film had its US broadcast premiere on the Fox Broadcasting Company, including audience participation edited into the film, on 13 October 1993.[19]
A Super 8 version of selected scenes of the film was made available.[20] On 2 August 2010, The Rocky Horror Picture Show Official Fan Club announced the release of the 35th Anniversary edition Blu-ray in the US for 19 October 2010. The disc includes a newly created 7.1 surround sound mix, a mono sound mix, and a 4K/2K image transfer from the original camera negative. In addition, new content featuring karaoke and fan performance are included.[21]
See also: 
The Rocky Horror Picture Show cult following
The film opened in the United Kingdom on 14 August 1975 and in the United States on 26 September 1975 at the UA Westwood in Los Angeles, California. It did well at that location, but not elsewhere.[22] The cult following did not begin until the film began its midnight run at the Waverly Theater in New York City on 1 April 1976.[23]
Prior to the midnight screenings' success, the film was withdrawn from its eight opening cities due to very small audiences, and its planned New York opening (on Halloween night) was cancelled.[24] Fox re-released it around college campuses on a double-bill with another rock music film parody, Brian De Palma's Phantom of the Paradise, but again it drew small audiences.[24] With Pink Flamingos (1972) and Reefer Madness (1936) making money in midnight showings nationwide, RHPS was eventually screened at midnight, starting in New York City on April Fools' Day of 1976.[24] By that Halloween, people were attending in costume and talking back to the screen. By mid-1978, Rocky Horror was playing in over fifty locations on Fridays and Saturdays at midnight, newsletters were published by local performance groups, and fans gathered for Rocky Horror conventions.[24] By the end of 1979, there were twice-weekly showings at over 230 theatres.[24]
The film received positive reviews from film critics mostly due to Curry's performance and singing. Based on 39 reviews collected by Rotten Tomatoes, the film has a 77% "fresh" rating.[25] At Metacritic, which assigns a normalized rating out of 100 to reviews from film critics, it has a rating score of 55, indicating "mixed or average reviews" based on six reviews.[26] The film has taken in US$365 million at the US box office, DVD sales, etc. since its release. The original budget for the film was US$1,400,000.[2]
In 1981, Sharman reunited with O'Brien to do Shock Treatment. This stand-alone feature was not a direct sequel to the original film.[27]
A few years later, O'Brien wrote another script intended as a direct sequel to the cult classic entitled Revenge of the Old Queen. Producer Michael White had hoped to begin work on the production and described the script as being "... in the same style as the other one. It has reflections of the past in it."[28] Although the script has not been published, bootleg copies can be read on the Internet. The script is currently owned by 20th Century Fox which produced the two original films. Most individuals associated with the project, including O'Brien, agree that the film will probably never be made, owing to the failure of Shock Treatment and the aging of the cast.[29]
"The Rocky Horror Glee Show" aired on October 26, 2010 as part of the second season of the TV series Glee, which recreated several scenes from the film, including the opening credits, and featured Barry Bostwick and Meat Loaf incameo roles.[30] An extended play, Glee: The Music, The Rocky Horror Glee Show, debuted at #6 on the Billboard 200 the week of 27 October 2010, with 48,000 copies sold
Community content is available under
CC-BY-SA
unless otherwise noted.