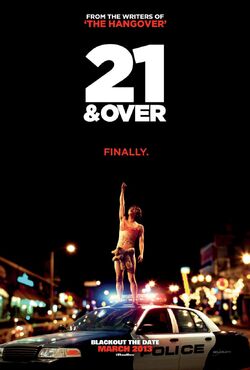 Finally.
Directed By
Jon Lucas
Scott Moore
Produced By
David Hoberman, Ryan Kavanaugh, Todd Lieberman, Hugo Shong, Andy Yan
Written By
Jon Lucas
Scott Moore
Cast
Skylar Astin
Miles Teller
Justin Chon
Distributed By
Relativity Media
Release Date
March 1, 2013
Rating


21 and Over is an American comedy film written and will be the directorial debut, for Jon Lucas and Scott Moore, writers of The Hangover and The Change Up.
Straight-A college student Jeff Chang has always done what's expected of him. But when his two best friends Casey and Miller surprise him with a visit for his 21st birthday, he decides to do the unexpected for a change, even though his critical medical school interview is early the next morning. What was supposed to be one beer becomes one night of chaos, over indulgence, and utter debauchery in this outrageous comedy.
Skylar Astin as Casey
Miles Teller as Miller
Justin Chon as Jeff
Sarah Wright as Nicole
Dustin Ybarra as PJ Bril
François Chau as Dr. Change
Jonathan Keltz as Randy
Daniel Booko as Julian
Samantha Futerman as Sally