Wiki Targeted (Entertainment)
Play Sound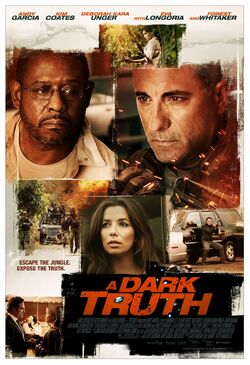 Escape the Jungle. Expose the Truth.
Produced By
Andy Garcia, Gary Howsam
Cast
Andy Garcia, Kim Coates, Deborah Kara Unger, Eva Longoria, and Forest Whitaker
Distributed By
Magnolia Pictures
Release Date
January 4, 2013 (limited)
Rating

In A Dark Truth, Garcia plays an ex-CIA op-turned political talk show host. He's hired by a corporate whistle blower to expose her company's cover-up of a massacre in a South American village.
Plot
The film draws attention to man's inhumanity and unconscious actions against the environment and questions if there is a moral and ethical obligation when talking about boundaries, borders and human interaction. With the ever-increasing depletion of earth's natural resource of water serving as the backdrop, a multi-national corporation disregards basic human needs that result in widespread illness and a people's uprising. The distress causes unlikely allies to conspire and seek redemption for past deeds and the greater good.
Cast
Andy Garcia

as Jack Begosian
Forest Whitaker as Francisco Francis
Eva Longoria as Mia Francis

Kim Coates

as Bruce Swinton

Deborah Kara Unger

as Morgan Swinton

Steven Bauer

as Tony Green
Devon Bostick as Renaldo

Al Sapienza

as Doug Calder

Lara Daans

as Karen Begosian

Peter DaCunha

as Jason Begosian

Arcadia Kendal

as Brooke Swinton

Drew Davis

as Jesus Francis
Trailers
Images
Related Links