Wiki Targeted (Entertainment)
Play Sound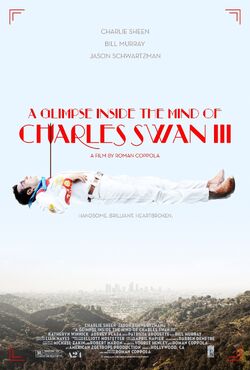 Reality is overrated.
Produced By
Roman Coppola, Youree Henley
Music By
Liam Hayes, Roger Neill
Studio
American Zoetrope, The Directors Bureau
Release Date
February 8, 2013
Rating

A Glimpse Inside the Mind of Charles Swan III is a 2013 American comedy film directed, written and produced by Roman Coppola. It stars Charlie Sheen, Jason Schwartzman, Bill Murray, Katheryn Winnick and Patricia Arquette. It is set to release February 8, 2013.
Plot
Set in a stylized Los Angeles, is a daring, playful comedy of lost love, friendship, revenge fantasies, and Brandy Alexanders. Charles is a successful graphic designer whose fame, money andcharm have provided him with a seemingly perfect life. When his true love, a perplexing beauty named Ivana, suddenly breaks off their relationship, Charles' life falls apart and he swirls into a downward spiral of doubt, confusion and reflection. With the support of his loyal intimates- Kirby, Saul, and his sister, Izzy - he begins the hard road of self-evaluation to come to terms with a life without Ivana. The film begs the question: Is it possible to love and hate someone at the same time?
Cast
Gallery
Posters
Trailer
Related Links