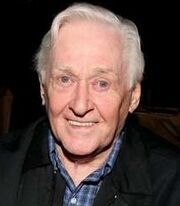 Alan Young (born Angus Young; November 19, 1919 - May 19 2016) was a British-born Canadian-American actor, voice actor, comedian and radio and television host/personality who TV Guide called "The Cahrile Chaplin of Television". He was best known for his role as naive Wilbur Post in the television comedy series Mister Ed (1961-1966). Young was also the voice of Diseny's Scrooge McDuck for over thirty years, first in the Academy Award-nominated short film Mickey's Christmas Carol (1983) and in various other films, TV series and video gamee until his death. During the 1940s and 1950s, he starred in his own variety/comedy sketch shows The Alan Young Show on radio and television, the latter gaining him two Emmy Awards in 1951. He also appeared in a number of feature films, starting from 1946, including the 1960 film The Time Machine and from the 1980s gaining a new generation of viewers apperaing in numerous Walt Dinsey Productions films as both an actor and voice actor.
Community content is available under
CC-BY-SA
unless otherwise noted.