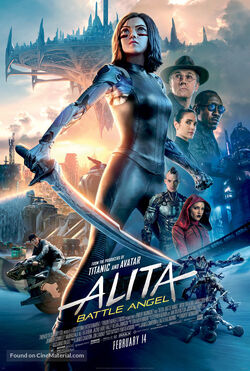 An Angel Falls. A Warrior Rises.
Based on
Battle Angel Alita
by Yukito Kishiro
Distributed By
20th Century Fox
Release Date
February 14, 2019

Alita: Battle Angel is an upcoming American cyberpunk action film directed by Robert Rodriguez. The cast of the film consists of Rosa Salazar, Christoph Waltz, Jennifer Connelly, Mahershala Ali, Ed Skrein, Jackie Earle Haley, and Keean Johnson.
The film will be released on February 14, 2019.
Alita: Battle Angel follows the story of the titular Alita (Salazar), a disembodied "core" who awakens with no memory in a post-apocalyptic world destroyed by a technological fall. Dr. Ido (Waltz) finds her and gives her a new body. They later discover that Alita is more than what she seems and has an extraordinary past. As she navigates her new life, she battles other machines who are empowered with skills.
James Cameron has stated that he intends to adapt "the spine story" of Yukito Kishiro's original manga, with a specific focus on the first four books. He especially wants to include the fictional sport "Motorball" from the third and fourth volume. In the narrative, the sport played an important role in the Alita story arc because it was part of her development as a character.