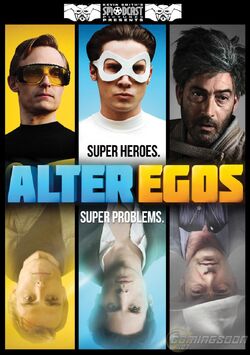 Super Heroes. Super Problems.
Produced By
Milan Chakraborty
Dan Farah
Jordan Galland
Carlos Valazquez
Studio
Attic Light Entertainment
Cloud 9 Film Partners
Release Date
October 19, 2012
Rating
Alter Egos is a comedy film about super-heroes due to be released in the fall of 2012. It is directed by Jordan Galland and has been purchased by Kevin Smith's company Phase 4 Films. Its world debut will be at the prestigious Fantasia Film Festival on July 24, 2012, where it was chosen as an official selection. It stars an accomplished cast from TV, film, and Broadway.
"Alter Egos inhabits a fantasy world where superheroes are a dime a dozen. If you have the powers, as lead supers Fridge (Kris Lemche), and C-Thru (Joey Kern), do, then, well, you can practice them for good, as long as you follow the guidelines, or at least some of them. Quite obviously, this is a parody of parodies and flips the superhero genre on its head. Like Superman, Fridge is dorky in his human clothes. Unlike Superman, it's not because he has to do so to keep his identity under wraps—more like he uses his superhero garb to explore different facets of his personality, as evidenced by the title. Somewhere along the storyline, he must tackle the fact that his girlfriend loves his superhero identity more than his unmasked self, and, naturally, face his nemesis, the man who killed his mom and dad—although he really doesn't want to.
Coming Soon!
Main article: Alter Egos/videos
Related Links
Edit
Community content is available under
CC-BY-SA
unless otherwise noted.