Wiki Targeted (Entertainment)
Play Sound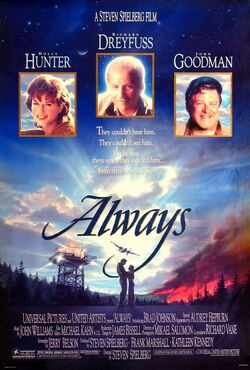 They couldn't hear him. They couldn't see him. But he was there when they needed him... Even after he was gone.
Based on
A Guy Named Joe
by
Dalton Trumbo
Frederick Hazlitt Brennan
Chandler Sprague
David Boehm
Distributed By
Universal Pictures
Release Date
December 22, 1989
Rating


Always is a 1989 American romantic comedy-drama film directed by Steven Spielberg. The cast of the film consists of Richard Dreyfuss, Holly Hunter, John Goodman, Brad Johnson, and Audrey Hepburn.
The film was released in the United States on December 22, 1989 by Universal Pictures.
Plot
Pete Sandich (Dreyfuss) is an aerial firefighter whose excessive risk taking in the air deeply troubles his girlfriend, Dorinda Durston (Hunter), a pilot who doubles as a dispatcher. It also concerns Pete's best friend, Al Yackey (Goodman), a fellow firefighter pilot.
After yet another risky and nearly fatal flight that Pete casually shrugs off, Al suggests he accept a safer job training firefighting pilots in Flat Rock, Colorado. Pete refuses until Dorinda tearfully confronts him, confessing her perpetual fear and anguish that he will be killed. Pete relents, and tells Dorinda he will accept the training job.
Pete accepts one last mission, despite Dorinda's gloomy premonition. During the fire bombing run, Al's engine catches fire and is about to explode. Pete makes a dangerously steep dive and skillfully douses Al's engine with a fire-retardant slurry, saving Al. As Pete struggles to regain control from the dive, he flies directly through the forest fire, igniting his own engine and exploding the plane.
Pete strolls through a burnt-out forest. Coming to a small clearing, he meets Hap (Hepburn), who explains Pete died and now has a new purpose: like spirits did for him during his lifetime, he will provide Spiritus ("the divine breath") to guide others who will interpret his words as their own thoughts.
Six months have elapsed in the real world, though time is often non-linear from Pete's perspective. Al wants a grieving Dorinda to move past Pete's death. He takes her with him to Colorado to work at the flight school where Pete is to guide a new firefighting pilot, Ted Baker (Johnson). More months pass, and, to Pete's anguish, Ted falls in love with Dorinda as she begins emerging from her year-long mourning. Pete attempts to sabotage the budding romance, but Hap reminds him that his life ended; he was sent to inspire Ted, but also to bid Dorinda farewell.
Ted, with Pete's inspiration, plans a dangerous rescue mission of trapped firefighters. Unable to bear another loss, Dorinda takes Ted's aircraft to do the job herself. Pete, unseen to Dorinda, fails to dissuade her. With Pete's guidance, Dorinda saves the firefighters. On the return flight, Pete tells her everything he wanted to say in life.
Dorinda makes an emergency water landing in a lake. As the sinking plane's cockpit floods, Dorinda seems reluctant to escape. Pete appears before her and, offering his hand, leads her to the surface. As Dorinda (now alone) wades ashore, Pete releases her heart to allow Ted to replace him.
Dorinda walks back to the airbase and embraces Ted. Pete smiles and heads in the opposite direction to assume his place in Heaven.
Cast
Videos
To be added