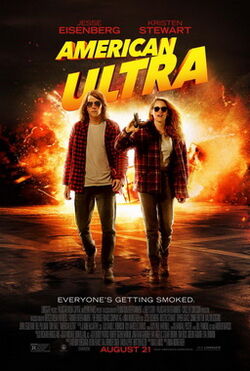 Everyone's getting smoked
Directed By
Nima Nourizadeh
Produced By
David Alpert
Anthony Bregman
Mark Fasano
Kevin Scott Frakes
Britton Rizzio
Raj Brinder Singh
Cast
Jesse Eisenberg
Kristen Stewart
Topher Grace
Connie Britton
Walton Goggin
John Leguizamo
Bill Pullman
Tony Hale
Monique Ganderton
Edited By
Bill Pankow
Andrew Marcus
Cinematography
Michael Bonvillain
Studio
PalmStar Entertainment
Circle of Confusion
Merced Media Partners
Likely Story
The Bridge Finance Company
Release Date
August 21, 2015
Rating
American Ultra is an American action comedy film directed by Nima Nourizadeh, written by Max Landis, and starring Jesse Eisenberg, Kristen Stewart, Connie Britton, Topher Grace, Walton Goggins, John Leguizamo, Bill Pullman, and Tony Hale. It was released in North America on August 21, 2015.
A stoner - who, unbeknownst to him is in fact a government agent - is marked as a liability and targeted for extermination. However, he's too well-trained and too high for them to handle.[1]
References
Edit
Community content is available under
CC-BY-SA
unless otherwise noted.