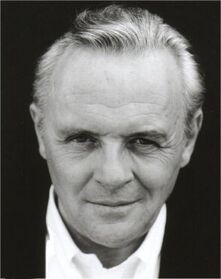 Anthony Hopkins, (born 31 December 1937), is a Welsh actor of film, stage and television, and a composer. Considered to be one of the greatest living actors, Hopkins is perhaps best known for his portrayal of Hannibal Lecter in The Silence of the Lambs.
Other prominent film credits include The Lion in Winter, Magic, The Elephant Man, 84 Charing Cross Road, Dracula, Legends of the Fall, The Remains of the Day, Amistad, Nixon, The Edge, and Fracture. Hopkins was born and brought up in Wales. Retaining his British citizenship, he became a U.S. citizen on 12 April 2000. Hopkins' films have spanned a wide variety of genres, from family films to horror. As well as his Academy Award, Hopkins has also won three BAFTA Awards, two Emmys and the Cecil B. DeMille Golden Globe Award. Hopkins was knighted by Queen Elizabeth II in 1993 for services to the arts. He received a star on the Hollywood Walk of Fame in 2003, and was made a Fellow of the British Academy of Film and Television Arts in 2008.
Filmography
Edit
Claudius in Hamlet (1969)
Charles Dickens in The Great Inimitable Mr. Dickens (1970)
Pierre Bezukhov in War and Peace (1972–1973)
Torvald Helmer in A Doll's House (1973)
Yitzhak Rabin in Victory at Entebbe (1976)
Frederick Treves in Elephant Man (1980)
Adolf Hitler in The Bunker (1981)
St. Paul in Peter and Paul (1981)
Othello in Othello (1981)
William Bligh in The Bounty (1984)
Galeazzo Ciano in Mussolini and I (1985)
Hannibal Lecter in The Silence of the Lambs (1991)
Abraham Van Helsing in Bram Stoker's Dracula (1992)
George Hayden in Chaplin (1992)
Richard M. Nixon in Nixon (1995)
Pablo Picasso in Surviving Picasso (1996)
Don Diego de la Vega/Zorro in The Mask of Zorro (1998)
William Parrish in Meet Joe Black (1998)
Ethan Powell in Instinct (1999)
Titus Andronicus in Titus (1999)
Hannibal Lecter in Hannibal (2001)
Ted Brautigan in Hearts in Atlantis (2001)
Hannibal Lecter in Red Dragon (2002)
Ptolemy in Alexander (2004)
John in Bobby (2006)
Hrothgar in Beowulf (2007)
Sir John Talbot in The Wolf Man (2010)
Community content is available under
CC-BY-SA
unless otherwise noted.