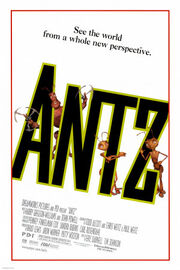 Antz is a 1998 American computer animated adventure comedy film produced by Pacific Data Images and released by DreamWorks Pictures. It features the voices of well-known actors such as Woody Allen, Sharon Stone, Jennifer Lopez, Sylvester Stallone, Dan Aykroyd, Anne Bancroft, Gene Hackman, Christopher Walken, and Danny Glover as various members of an ant society. Some of the main characters share facial similarities with the actors who voice them.
Antz is the first animated film, as well as the first CGI-animated film, by DreamWorks Animation and the second computer-animated film released in the United States after Pixar's Toy Story and before A Bug's Life, another Pixar film, also featuring ants. The film was originally released to theatres on October 2, 1998 (almost two months before A Bug's Life).
(google search resut for filler sorry! 0w0)  Z the worker ant (Woody Allen) strives to reconcile his own individuality with the communal work-ethic of the ant colony. He falls in love with ant-Princess Bala (Sharon Stone), Z strives to make social inroads, and then must save the ant colony from the treacherous scheming of the evil General Mandible (Gene Hackman) that threaten to wipe out the entire worker population.
Woody Allen - Z
Dan Aykroyd - Chip
Anne Bancroft - Queen
Jane Curtin - Muffy
Danny Glover - Barbafus
Gene Hackman - Mandible
Jennifer Lopez - Azteca
John Mahoney - Drunk Scout
Paul Mazursky - Psychologist
Grant Shaud - Foreman
Sylvester Stallone - Weaver
Sharon Stone - Bala
Christopher Walken - Cutter
Insignificantz (Main Titles)
The General's Plan
Princess Bala
A Better Place
Invitation to the Dantz
Like Being in Love
The New Soldier
Termites!
The New Worker
One Survivor
A War Hero?
A Little Near Death Experience
Z the Legend
This Desert Thing
The Worker's Rebellion
The Plastic Wrapped Paradise
Terror from Above
Where's Z?
Insectopia!
Kidnapped by Cutter
Bala's Hero
A Colony in Crisis
The Flood
Cutter's Way
Z Revival
End Titles
Give Peace a Chance
Guantanamera
Almost Like Being in Love - Woody Allen
Neil Finn - I Can See Clearly Now
Doris Day - High Hopes
Todd Rundgren - Bang the Drum All Day [heard in the trailer]
Community content is available under
CC-BY-SA
unless otherwise noted.