Babar: King of the Elephants is a 1999 animated film based on Jean de Brunhoff's book series.
It was made by Nelvana Limited and released in theaters in Canada and the U.S. by Miramax Films and later on home video by HBO Home Video.
It is the second Babar film, following Babar: The Movie.
Babar's mother is killed by hunters which forces him to flee to a nearby city. He is taken in by an older woman who raises him as if he is human. His elephant friends later find him, although they had presumed him dead.
Babar returns with them to the forest, bringing human culture with him. Although Babar is keen for elephants to adopt more human customs, this is innately problematic.
Dan Lett as King Babar
Kristin Fairlie as Young Babar
Janet-Laine Green as Queen Celeste
Jennifer Martini as Young Celeste
Chris Wiggins as Cornelius
Philip Williams as Zephir
Amos Crawley as Uncle Arthur
Kyle Fairlie as Young Arthur/Alexander
Elizabeth Hanna as Madame
Wayne Robson as Marabou/Sales Manager
Ellen-Ray Hennessy as Babar's Mother/Misfortune
Paul Paddock as Elevator Boy/Tailor
"Babar: King of the Elephants" first premiered in United States on June 18, 1999. In the United States, it was given a limited theatrical release.
During the film's limited theatrical release in the United States, it opened at #50 at the box office, showing in only 52 theaters, grossing $49,090 during its opening weekend.
Domestically, it grossed $227,374.
Brian Costello from Common Sense Media described the film as a "delightful story, with one scary moment for younger kids."
Stephen Holden from The New York Times described the animated film will captures the heart for the entertainment event of our time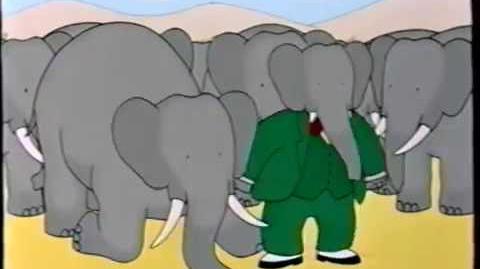 Community content is available under
CC-BY-SA
unless otherwise noted.