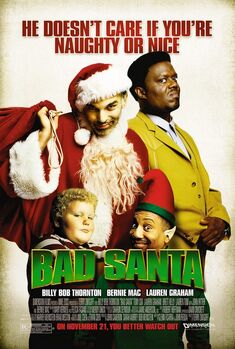 He doesn't care if you're naughty or nice
Directed By
Terry Zwigoff
Produced By
John Cameron
Sarah Aubrey
Bob Weinstein
Cast
Billy Bob Thornton
Tony Cox
Brett Kelly
Lauren Graham
Lauren Tom
Bernie Mac
John Ritter
Octavia Spencer
Cloris Leachman
Alex Borstein
Cinematography
Jamie Anderson
Release Date
November 21, 2003
Rating

Bad Santa (2003) is an American Christmas black comedy film written by Glenn Ficarra and John Requa, directed by Terry Zwigoff, and starring Billy Bob Thornton , Bernie Mac , and Lauren Graham, with Tony Cox, Brett Kelly, Lauren Tom, and John Ritter in supporting roles.
A miserable conman and his partner pose as Santa and his Little Helper to rob department stores on Christmas Eve. But they run into problems when the conman befriends a troubled kid, and the security boss discovers the plot.[1]
The film was screened out of competition at the 2004 Cannes Film Festival.
An unrated version was released on DVD on March 5, 2004 and on Blu-ray Disc on November 20, 2007 as "Bad(der) Santa."
This was Ritter's last film appearance before his death in 2003.
The Coen brothers are credited as executive producers.
Community content is available under
CC-BY-SA
unless otherwise noted.