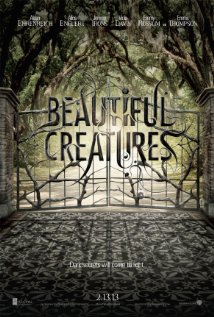 Dark secrets will come to light
Directed By
Richard LaGravenese
Written By
Richard LaGravenese (screenplay), Kami Garcia and Margaret Stohl (novel)
Release Date
February 13, 2013
Beautiful Creatures is an upcoming supernatural romance film based upon the novel by the same name by Kami Garcia and Margaret Stohl. The film will be directed by Richard LaGravenese and will star Alice Englert and Alden Ehrenreich.
Plot Summary
Edit
Ethan longs to escape his small Southern town. He meets a mysterious new girl, Lena. Together, they uncover dark secrets about their respective families, their history and their town.
Production Notes
Edit
Alcon Entertainment purchased the rights to Beautiful Creatures in 2009, with director Richard LaGravenese signing on soon after to write and direct the movie. Casting for the film began in late 2011, and in February 2012 Viola Davis was cast as Amma.Soon after, Jack O'Connell and Alice Englert were announced to be playing the lead characters of Ethan Wate and Lena Duchannes.O'Connell later dropped out of the film due to a scheduling conflict, with Alden Ehrenreich assuming the role of Ethan. Further casting included Emma Thompson in dual roles as Sarafine and Mrs Lincoln and Jeremy Irons as Lena's uncle Macon Ravenwood.Of the character of Lena, Englert stated that "Lena is like most girls when you feel massively insecure". Filming started in May 2012 in New Orleans and finished in late July.For the film LaGravenese chose to incorporate real special effects along with computer-based ones for certain scenes, notably a scene in which a classroom's windows shatter, which Emmy Rossum called "exciting".On September 19, 2012 the first trailer for Beautiful Creatures was released.
Featurette
Edit
References
Edit
Community content is available under
CC-BY-SA
unless otherwise noted.