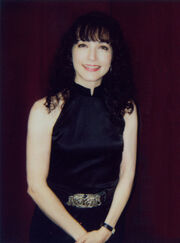 Beatrice "Bebe" Neuwirth (born December 31, 1958) is an American theater, television, and film actress. She is best known for her portrayal of Dr. Lilith Sternin-Crane on the NBC sitcoms Cheers and Frasier.
Neuwirth was born in Princeton, New Jersey, to Jewish American parents Lee Neuwirth (a mathematician and triathlete) and Sydney Anne.
Neuwirth started her showbiz career as a dancer. She has been featured in Broadway musicals such as Damn Yankees, Sweet Charity, and Chicago and is the winner of two Tony Awards. In 2002, she was featured in the romantic comedy How to Lose a Guy in 10 Days. She also starred as actress Tabba Schwartzkopf in Oliver Stone's 1993 miniseries, Wild Palms, and appeared with Andie MacDowell and Gérard Depardieu in the movie Green Card. She also served as the voice actress for Annabelle in All Dogs Go to Heaven: The Series.
Neuwirth is known for her pale skin and her long legs.
In 2005, she co-starred as Assistant District Attorney Tracey Kibre in Law & Order: Trial by Jury, a spin-off of the long-running crime drama series Law & Order created by Dick Wolf; the show lasted only one season.
External links
Edit
sv:Bebe Neuwirth
Community content is available under
CC-BY-SA
unless otherwise noted.