Doctor Strange in The Multiverse o Madness - The Loop
Play Sound
Black Panther is a 2018 American superhero film based on the Marvel Comics character of the same name. Produced by Marvel Studios and distributed by Walt Disney Studios Motion Pictures, it is the 18th film in the Marvel Cinematic Universe (MCU). The film was directed by Ryan Coogler, who co-wrote the screenplay with Joe Robert Cole, and it stars Chadwick Boseman as T'Challa / Black Panther alongside Michael B. Jordan, Lupita Nyong'o, Danai Gurira, Martin Freeman, Daniel Kaluuya, Letitia Wright, Winston Duke, Angela Bassett, Forest Whitaker, and Andy Serkis. In Black Panther, T'Challa is crowned king of Wakanda following his father's death, but he is challenged by Killmonger, who plans to abandon the country's isolationist policies and begin a global revolution.
Wesley Snipes planned to make a Black Panther film in 1992, but the project did not come to fruition. In September 2005, Marvel Studios listed a Black Panther film as one of ten films based on Marvel characters intended to be distributed by Paramount Pictures. Mark Bailey was hired to write a script in January 2011. Black Panther was officially announced in October 2014, and Boseman made his first appearance as the character in Captain America: Civil War (2016). Cole and Coogler had joined by then, with additional casting in May. Black Panther is the first Marvel Studios film with a Black director and a predominantly Black cast. Principal photography took place from January to April 2017 at EUE/Screen Gems Studios in the Atlanta metropolitan area, and in Busan, South Korea.
Black Panther premiered in Los Angeles on January 29, 2018, and was released theatrically in the United States on February 16, as part of Phase Three of the MCU. Critics praised its direction, screenplay, acting (particularly that of Boseman, Jordan, and Wright), costume design, production values, and soundtrack, but some criticized the computer-generated visual effects. Many critics considered the film to be one of the best in the MCU, and it was also noted for its cultural significance. Organizations such as the National Board of Review and American Film Institute named Black Panther as one of the top 10 films of 2018. It grossed over $1.3 billion worldwide and broke numerous box office records, becoming the highest-grossing film directed by a Black filmmaker, the ninth-highest-grossing film of all time, the third-highest-grossing film in the U.S. and Canada, and the second-highest-grossing film of 2018.
The film received numerous accolades, with seven nominations at the 91st Academy Awards including the first nomination for Best Picture for a superhero film, and the first Academy Award win for an MCU film with wins for Best Costume Design, Best Original Score, and Best Production Design. It also received three nominations at the 76th Golden Globe Awards, two wins at the 25th Screen Actors Guild Awards, and three wins at the 24th Critics' Choice Awards from twelve nominations, among others. A sequel, Black Panther: Wakanda Forever, is scheduled for release on July 8, 2022, while a television series set in Wakanda is in development for Disney+.
Plot
Thousands of years ago, five African tribes war over a meteorite containing the metal vibranium. One warrior ingests a "heart-shaped herb" affected by the metal and gains superhuman abilities, becoming the first "Black Panther". He unites all but the Jabari Tribe to form the nation of Wakanda. Over centuries, the Wakandans use the vibranium to develop advanced technology and isolate themselves from the world by posing as a Third World country. In 1992, Wakanda's King T'Chaka visits his brother N'Jobu, who is working undercover in Oakland, California. T'Chaka accuses N'Jobu of assisting black-market arms dealer Ulysses Klaue with stealing vibranium from Wakanda. N'Jobu's partner reveals he is Zuri, another undercover Wakandan, and confirms T'Chaka's suspicions.
In the present day, following T'Chaka's death, his son T'Challa returns to Wakanda to assume the throne. He and Okoye, the leader of the Dora Milaje regiment, extract T'Challa's ex-lover Nakia from an undercover assignment so she can attend his coronation ceremony with his mother Ramonda and younger sister Shuri. At the ceremony, the Jabari Tribe's leader M'Baku challenges T'Challa for the crown in ritual combat. T'Challa defeats M'Baku and persuades him to yield rather than die.
When Klaue and his accomplice Erik Stevens steal a Wakandan artifact from a London museum, T'Challa's friend and Okoye's lover W'Kabi urges him to bring Klaue back alive. T'Challa, Okoye, and Nakia travel to Busan, South Korea, where Klaue plans to sell the artifact to CIA agent Everett K. Ross. A firefight erupts, and Klaue attempts to flee but is caught by T'Challa, who reluctantly releases him to Ross' custody. Klaue tells Ross that Wakanda's international image is a front for a technologically advanced civilization. Erik attacks and extracts Klaue as Ross is gravely injured protecting Nakia. Rather than pursue Klaue, T'Challa takes Ross to Wakanda, where their technology can save him.
While Shuri heals Ross, T'Challa confronts Zuri about N'Jobu. Zuri explains that N'Jobu planned to share Wakanda's technology with people of African descent around the world to help them conquer their oppressors. As T'Chaka arrested N'Jobu, the latter attacked Zuri and forced T'Chaka to kill him. T'Chaka ordered Zuri to lie that N'Jobu had disappeared and left behind N'Jobu's American son to maintain the lie. This boy grew up to be Stevens, a black ops U.S. Navy SEAL who adopted the name "Killmonger". Meanwhile, Killmonger kills Klaue and takes his body to Wakanda. He is brought before the tribal elders, revealing his identity to be N'Jadaka and claim to the throne. Killmonger challenges T'Challa to ritual combat, where he kills Zuri, defeats T'Challa, and hurls him over a waterfall to his presumed death. Killmonger ingests the heart-shaped herb and orders the rest incinerated, but Nakia extracts one first. Killmonger, supported by W'Kabi and his army, prepares to distribute shipments of Wakandan weapons to operatives around the world.
Nakia, Shuri, Ramonda, and Ross flee to the Jabari Tribe for aid. They find a comatose T'Challa, rescued by the Jabari in repayment for sparing M'Baku's life. Healed by Nakia's herb, T'Challa returns to fight Killmonger, who dons his own nanotech suit, similar to T'Challa's. W'Kabi and his army fight Shuri, Nakia, and the Dora Milaje, while Ross remotely pilots a jet and shoots down planes carrying the vibranium weapons. M'Baku and the Jabari arrive to reinforce T'Challa. Confronted by Okoye, W'Kabi and his army stand down. Fighting in Wakanda's vibranium mine, T'Challa disrupts Killmonger's suit and stabs him. Killmonger refuses to be healed, choosing to die a free man rather than be incarcerated; T'Challa takes him to the waterfall where they fought, where Killmonger dies peacefully.
T'Challa establishes an outreach center at the building where N'Jobu died, to be run by Nakia and Shuri. In a mid-credits scene, T'Challa appears before the United Nations to reveal Wakanda's true nature to the world. In a post-credits scene, Shuri helps Bucky Barnes with his recovery.
Cast
The king of the African nation of Wakanda who gains enhanced strength by ingesting the heart-shaped herb. He ascends to the throne following the death of his father T'Chaka in Captain America: Civil War (2016). Boseman called T'Challa an anti-hero who is "very much aware" of his responsibility as the leader of Wakanda. Black Panther's suit, which forms around his body, was inspired by a similar design in Ta-Nehisi Coates' Black Panther comic book run. For his Wakandan accent, Boseman worked with the same dialect coach he had for Message from the King (2016), and worked with Marrese Crump to stay in shape between Civil War and Black Panther. To prepare for the role, Boseman visited South Africa twice; examined Shaka Zulu, Patrice Lumumba, speeches from Nelson Mandela, and Fela Kuti songs; talked to a Yoruba Babalawo; trained in Dambe, Capoeira Angola, and Zulu stick fighting; and took a DNA test to better understand his African ancestry. He signed a five-film contract with Marvel. Ashton Tyler plays a young T'Challa.
A U.S. Navy SEAL in black ops who seeks to overthrow his cousin T'Challa, with his own opinion on how Wakanda should be ruled. Jordan had wanted to play a villain for "a while", and likened Killmonger and T'Challa's relationship to the X-Men characters Magneto and Professor X. He added that Killmonger is strategic, thoughtful, patient, and "trained to a T". Killmonger's bumpy, ritualistic tribal markings on his chest and torso resemble the scar tattoos of the Mursi and Surma tribes, and consisted of 90 individually sculpted silicone molds that took two-and-a-half hours to apply. Jordan would have to sit in a sauna for two hours at the end of the day to remove the prosthetics. Killmonger's dreadlocks hairstyle was a modern take on the character's long hair in the comics. To prepare for the role, Jordan studied Malcolm X, Marcus Garvey, Huey P. Newton, Fred Hampton, and Tupac Shakur. He also cited Heath Ledger's portrayal of the Joker in The Dark Knight (2008) as an influence. Corey Calliet, who had previously worked with Jordan on Creed (2015), served as his trainer. Seth Carr plays a young Stevens.
T'Challa's former lover and a War Dog, an undercover spy for Wakanda, from the River Tribe. Nyong'o called Nakia a "departure" from her comic counterpart. She begins the film fighting for enslaved women in Nigeria. Nyong'o trained in judo, jujitsu, silat, and Filipino martial arts.
An "extremely proud" Wakandan traditionalist from the Border Tribe who is the head of the Dora Milaje, Wakanda's all-female special forces and T'Challa's bodyguards. Director Ryan Coogler cast Gurira based on her performance in Mother of George (2013), rather than her popular role of Michonne in the television series The Walking Dead, which Coogler had not seen. Gurira said that the fighting skills she learned playing Michonne complemented the skills of Okoye, but noted that the Dora Milaje are a secret service, which covers intel as well as fighting. She explained that though the character is stoic, "she also has an unexpected sense of humor. She has a heart, but for her country and for her people." Gurira's head was re-shaved every day to have her head tattoos applied, which took two-and-a-half to three-and-a-half hours.
A member of the Central Intelligence Agency whom Freeman described as having an "uneasy peace" with T'Challa. He added that the character goes on an "enlightening journey to Wakanda" in the film. Freeman and the filmmakers sought to depict Ross as a capable agent rather than just comic relief as he is in the comics.
A confidant to T'Challa and his best friend who is the head of security for the Border Tribe, serving as the first line of defense for Wakanda.
T'Challa's 16-year-old sister who designs new technology for the country. Wright described Shuri as innovative of spirit and mind, wanting to take Wakanda to "a new place", and felt she was a good role model for young Black girls. Executive producer Nate Moore called Shuri the smartest person in the world, even more so than Tony Stark.
A powerful, ruthless warrior who is the leader of Wakanda's mountain tribe, the Jabari, who protest T'Challa being the new king. Duke described the Jabari as people who "strongly believe that to move forward, you have to have a strong adherence and respect for the past. So they have a deep moral conscience." Character elements from Christopher Priest's 1998–2003 Black Panther series were adapted for M'Baku's portrayal in the film. M'Baku is not referred to in the film by his comics alter ego "Man-Ape", since Marvel felt there were "a lot of racial implications that don't sit well" in having a Black character dress up as an ape. This aspect of the character was instead reworked to have the Jabari tribe worship the gorilla gods, with M'Baku still wearing elements of fur on his arms and legs and a chest-plate that hints at the gorilla. Moore continued, "Man-Ape is a problematic character for a lot of reasons, but the idea behindMan-Ape we thought was really fascinating ... It's a line I think we're walking, and hopefully walking successfully." To further differentiate the Jabari, Duke spoke a version of the Nigerian Igbo language rather than the Xhosa language spoken by other Wakandans.
T'Challa and Shuri's mother, the Queen Mother of Wakanda. Ramonda serves as an adviser to T'Challa for when he would otherwise have turned to his father. Bassett wore a silver, waist-length wig for the role that was made from 120 pieces of hair hand-rolled into dreadlocks. Calliet also served as Bassett's trainer before and during filming, creating high-intensity interval training circuits and helping to craft her diet.
An elder statesman of Wakanda and the keeper of the heart-shaped herb. Coogler called Zuri a religious and spiritual figure, referencing the spirituality of Wakanda from the comics, and compared him to Obi-Wan Kenobi from the Star Wars series. Zuri is also a "major tie back" to T'Chaka for T'Challa. Denzel Whitaker, who is not related to Forest, plays a young Zuri.
A South African black-market arms dealer, smuggler and gangster, who is allied with Killmonger. Klaue uses a segment of advanced Wakandan mining equipment as a sonic disruptor arm-cannon that serves to replace his left arm, which was lost in Avengers: Age of Ultron (2015). Boseman described Klaue as a threat to Wakanda, one of the few outsiders to enter the country, and someone with access to vibranium. He compared the character to Osama bin Laden. Serkis added that in addition to his desire for vibranium, Klaue is motivated by a "personal" vendetta against T'Challa, and "to expose what he thinks is the hypocrisy of Wakanda".
Additionally, John Kani and Florence Kasumba reprise their respective roles of T'Chaka and Ayo from Captain America: Civil War. Kani's son Atandwa Kani portrays a young T'Chaka, and Sterling K. Brown plays his brother N'Jobu, who is Killmonger's father. Wakandan elders in the film include Isaach de Bankolé for the River Tribe, Connie Chiume for the Mining Tribe, Dorothy Steel for the Merchant Tribe, and Danny Sapani for the Border Tribe. Sydelle Noel appears as Xoliswa, a member of the Dora Milaje. Marija Abney, Janeshia Adams-Ginyard, Maria Hippolyte, Marie Mouroum, Jénel Stevens, Zola Williams, Christine Hollingsworth, and Shaunette Renée Wilson also play Doras. Nabiyah Be initially announced that she was playing criminal Tilda Johnson, but her character was simply named Linda in the final film due to Gabrielle Dennis being cast as Johnson in the second season of Luke Cage. Comedian Trevor Noah voices Griot, a Wakandan ship A.I., Black Panther co-creator Stan Lee has a cameo as a patron in the South Korean casino, and Sebastian Stan makes an uncredited appearance in the post-credits scene reprising his role as Bucky Barnes.
Reception
Box office
Black Panther grossed $700.1 million in the United States and Canada, and $646.9 million in other territories, for a worldwide total of $1.347 billion. It became the highest-grossing solo superhero film, the third-highest-grossing film of the MCU and superhero film overall, the ninth-highest-grossing film of all time, and the highest-grossing film by a Black director. It is the fifth MCU film and 33rd overall to surpass $1 billion, and the second-highest-grossing film of 2018, behind only Avengers: Infinity War. Deadline Hollywood estimated the net profit of the film to be $476.8 million, accounting for production budgets, P&A, talent participations and other costs, with box office grosses and ancillary revenues from home media, placing it second on their list of 2018's "Most Valuable Blockbusters".
Pre-sale tickets
The film had the fourth-highest pre-sale tickets sold on Fandango, and became the top pre-seller for a superhero film and for a film released in February as well as the first quarter of a year. The first 24 hours of ticket pre-sales on the site were the largest for a Marvel film. Black Panther also had the highest number of ticket pre-sales for any superhero film at Alamo Drafthouse Cinema]p, while out-selling all previous Marvel films at AMC Theatres, and having strong pre-sales at Atom Tickets. Four days before its United States opening, IMAX Entertainment CEO Greg Foster revealed that Black Panther had the most advanced IMAX ticket sales of any Marvel film, which did not appear to have peaked 10 days before opening as with most films; Black Panther, he said, "feels like it's going to peak the day it opens". Fandango's pre-sales ultimately accounted for 30% of the film's United States and Canada opening weekend gross, one of the largest box office shares for any film in Fandango's history.
United States and Canada
Early projections for Black Panther's opening weekend ranged from $80–170 million, with rival film studios projecting the total to be as high as $180–200 million; Disney projected the gross to be around $150 million. It ultimately earned $75.8 million on its opening day (including $25.2 million from Thursday night previews), and $242.1 million over the four-day Presidents' Day weekend. This was the best Presidents' Day weekend opening, and the best opening weekend for a Black director and predominantly Black cast. For AMC Theatres, Black Panther became the highest-grossing film ever at 33 locations, and had the biggest opening weekend for 150 of them. Overall, this was the second-largest opening weekend ever for the chain with 4.4 million admissions. Atom Tickets sold more tickets for Black Panther than any other superhero film. Anthony D'Alessandro of Deadline Hollywood described the success as "summer box office records during the second month of the year".
The week after its opening weekend was also strong, with a record-setting Tuesday and Thursday earnings, becoming the MCU film with the highest first-week gross.It also surpassed $300 million in eight days, becoming the fastest MCU film to do so.In its second weekend, the film earned $112 million, which was a 45 percent decrease from its opening week, the smallest decline in a second weekend for any MCU film. It was the second-best second weekend ever, and the best second weekend for a Marvel film beating The Avengers ($103 million). Black Panther also became the highest-grossing film released in February, surpassing The Passion of the Christ (2004) ($370.3 million).
Black Panther was the first film to hold the number one spot at the box office for at least five weekends since Avatar (2009), and the first February release to hold the top box office spot for five weekends since Wayne's World (1992). The film declined over subsequent weekends, but remained in the top ten through its tenth. In its eleventh weekend, the film rose back up at the box office, in part because of the release of Avengers: Infinity War the same weekend, and the following weekend it earned $3.14 million from over 1,600 locations. D'Alessandro noted the gross from that number of locations indicated people were continuing to see Black Panther in conjunction with Infinity War. Black Panther was in the top ten again in its thirteenth weekend.
In its 25th weekend, Disney increased the film's theater count from 10 to 25 to help the film become the third ever to surpass $700 million. Brian Gallagher of IGN felt the film surpassing $700 million was more impressive than Infinity War's $2.045 billion worldwide gross at the time. Gallagher pointed to Black Panther being more consistent each week, never having more than a 50% weekend decrease until the 15th frame while Infinity Wardropped 55% in its second weekend, its February release date without any major competition from other films, and the fact it was "a rallying cry for diversity and representation". Black Panther is the highest-grossing film of 2018 and became the third-highest-grossing film of all time, as well as the highest-grossing superhero film. Its IMAX total of $36 million is the most for any MCU film. In July 2020, due to the COVID-19 pandemic closing most theaters worldwide and limiting what films played, Black Panther returned to 421 theaters (mostly drive-ins) and grossed $367,000, the second-highest for the weekend behind The Empire Strikes Back's (1980) re-release.
Other territories
Outside the United States and Canada, the film opened in 48 territories in its first weekend and earned $184 million, opening at number one in most territories (though second in some where Fifty Shades Freed performed better, such as Germany and Italy). It became the top February opening in many countries, including in the African market and the Middle East, while taking the top spot across Latin America. IMAX accounted for $11.5 million of the opening weekend gross, from 272 screens, which included record opening weekends in the format for Nigeria, Kenya, and Indonesia. In its second weekend, in 55 territories, the film earned $83.5 million and remained number one in most, including across Latin America, while becoming the top film in Germany. The West Africa region saw a 7% increase, which resulted in the biggest three-day weekend ever there. Trinidad had the biggest opening weekend ever ($700,000) and the IMAX release in Russia ($1.7 million) was a February record for that country.
In its third weekend, the film remained number one across many of its 56 territories, including the entire Latin America region, while its opening in Japan was the top Western film for the weekend, the second overall. In its fourth weekend, Black Panther opened in China ($66.5 million) with the fourth-highest MCU and superhero opening ever in the country. This included the biggest opening day and opening weekend ($7.3 million) of March for IMAX in China. The film also remained at number one in the United Kingdom and the Latin America region (except Argentina) for the fourth straight weekend, as well as number one in South Africa, Australia and New Zealand. Black Panther was the top film in South Africa for seven weeks, where it became the highest-grossing film ever. It also became the highest-grossing film of all time in West and East Africa, and the southern Africa region, and the highest-grossing superhero film ever in the Netherlands. As of April 8, 2018, the film's largest markets were China ($104.6 million), the United Kingdom ($67.7 million), and South Korea ($42.8 million). It became the fifth-highest-grossing MCU film of all time in other territories.
Critical response
The review aggregator website Rotten Tomatoes reported an approval rating of 96% with an average score of 8.3/10 based on 519 reviews. The website's critical consensus reads, "Black Panther elevates superhero cinema to thrilling new heights while telling one of the MCU's most absorbing stories—and introducing some of its most fully realized characters." As of February 18, 2018, it was the best-reviewed live-action superhero film on the site, beating The Dark Knight (2008) and Iron Man (both 94%). Metacritic, which uses a weighted average, assigned the film a score of 88 out of 100 based on 55 critics, indicating "universal acclaim". It is the highest-scoring Marvel Cinematic Universe film on both websites, and the most acclaimed film of 2018 in general on the former. Audiences polled by CinemaScore gave the film an average grade of "A+" on an A+ to F scale, the second live-action superhero film to receive that grade after The Avengers. Filmgoers polled by comScore's PostTrak service gave the film a 95% positive score and an 88% "definite recommend", with a third of people planning to see the film again. RelishMix reported that the use of Twitter hashtags for #BlackPanther and tagging of the film's Twitter account from those leaving the theater was the highest for a film's opening weekend, with 559,000 unique posts in one day (100,000 posts for a film is average). Black Panther was listed on many critics' top ten lists as a top film of 2018.
Critics called Black Panther one of the best standalone Marvel films, one of the best Marvel origin films, one of the best superhero films of the century, and a "refreshing answer to the increasingly stale world of superhero cinema".
Analysis
Cultural importance
Writing for Time, Jamil Smith felt Black Panther would "prove to Hollywood that African-American narratives have the power to generate profits from all audiences", and described it as a resistance to "a regressive cultural and political moment fueled in part by the white-nativist movement... Its themes challenge institutional bias, its characters take unsubtle digs at oppressors, and its narrative includes prismatic perspectives on Black life and tradition." Discussing the film as a defining moment for Black America in The New York Times Magazine, Carvell Wallace said that in contrast to earlier Black superhero films, Black Panther "is steeped very specifically and purposefully in its Blackness". He felt Wakanda would become a "promised land" for future generations of Black Americans, "untroubled by the criminal horrors of our [current] American existence." Historian Nathan D. B. Connolly said Black Panther was "a powerful fictional analogy for real-life struggles" that taps into a "500-year history of African-descended people imagining freedom, land and national autonomy." Connolly also felt, culturally, the film would be this generation's A Raisin in the Sun (1961). Writer and activist Shaun King found the film to be a cultural moment in American Black history similar to Rosa Parks' Montgomery bus boycott, Martin Luther King Jr.'s "I Have a Dream" speech, or Barack Obama being elected president.
By contrast, James Wilt, writing for Canadian Dimension, stated that "at its core, Black Panther contains a fundamentally reactionary understanding of Black liberation that blatantly advocates respectability politics over revolution" allowing "white folks such as myself to feel extremely comfortable watching it". Wilt found the scene where Ross is portrayed as "the hero" for shooting down the Wakandan ships to be the film's way of approving the vanquishing of armed resistance against oppression. Wilt also felt that Killmonger was given the "most hideous traits imaginable [making] the only major African-American character and agitator for revolution a manic killer consumed by rage and violence". Russell Rickford of Africa is a Country wrote that Killmonger's role as a character is "to discredit radical internationalism". Faisal Kutty from Middle East Eye felt the film had underlying Islamophobic themes, with the only Islamic characters being a Boko Haram-based group that kidnapped several girls and forced them to wear hijab.
Science & Entertainment Exchange Director for the National Academy of Sciences Richard Loverd felt the film would increase interest in science, technology, and Africa for young Black Americans, similarly to how The Hunger Games films and Brave (2012) sparked girls' interest in archery. Broadnax felt many people who generally do not watch comic book films would go to Black Panther since "they're going to see themselves reflected in a huge way that they just haven't been able to see before", especially since the film avoided the plight typically depicted in films about the Black experience. She also stated that the strong female characters, such as Shuri, would be an inspiration for girls.
Gil Robertson, co-founder and president of the African American Film Critics Association, called the film "critically important" and "a gate-opener opportunity for other Black-centered projects". Child development expert Deborah Gilboa felt the film would "make a huge impact on children's spirits" by offering positive role models. Scholar Marlene D. Allen felt the saying "if you can see it, you can be it" applied to the film, especially with the female characters in the film. Allen felt the women of Wakanda "are the very definition of 'Black Girl Magic', a term coined by CaShawn Thompson in 2013 'to celebrate the beauty, power, and resilience of Black women.'" Tre Johnson of Rolling Stone felt that "after decades of trying to nail the modern Black superhero, we may finally be getting what we've asked for", with Johnson saying Black Panther felt different from the Blaxploitation films of the 1970s and the "Blaxploitation-lite" attempts at Black superhero films in the 1990s and 2000s because it was "respectable, imaginative and powerful", setting "a new direction" for the depiction of Black superheroes. In the film's opening weekend, 37% of audiences in the United States were African-American, according to PostTrak, compared to 35% Caucasian, 18% Hispanic, and 5% Asian. This was the most diverse audience for a superhero film ever (African-Americans generally make up 15% of audiences for superhero films). In its second weekend, demographics were 37% Caucasian, 33% African American, 18% Hispanic and 7% Asian.
In early January 2018, philanthropist Frederick Joseph created a GoFundMe drive to raise money for children of color at the Boys & Girls Club in Harlem to see Black Panther. Joseph said the film was a "rare opportunity" for underserved children of color to see "a Black major ... comic book character" brought to film. Joseph promoted the drive with Boseman on The Ellen DeGeneres Show. The drive went on to raise over $45,000,exceeding its goal, with the money also funding other programs for children in Harlem. Joseph also started the "Black Panther Challenge" where he encouraged other people to create similar drives for their communities. GoFundMe made a centralized site for those wishing to start a drive for the challenge. 400 additional drives were started around the world, and the overall drive became the largest GoFundMe in history for an entertainment event, raising over $400,000. Many celebrities offered their support and contributions to the drives, including Ellen DeGeneres, Snoop Dogg, Chelsea Clinton, J. J. Abrams, Octavia Spencer, and British actress Jade Anouka.
In June 2018, the Smithsonian Institution's National Museum of African American History and Culture announced they had acquired several items from the film for their collection, including Boseman's Black Panther costume and a shooting script for the film signed by Coogler, Feige, Moore, and Cole. The museum said that the collection provides a "fuller story of Black culture and identity" by showing the progression of Black Americans in film, "an industry that [once] regulated them to flat, one-dimensional and marginalized figures." In conjunction with The Hollywood Reporter's Women in Entertainment Mentorship Program, and its partner the Greater Los Angeles chapter of Big Brothers Big Sisters, Walt Disney Studios created "The Black Panther Scholarship", worth US$250,000 to Loyola Marymount University. Boseman, Nyong'o, and Gurira presented the scholarship to its first recipient at The Hollywood Reporter's 2018 Women in Entertainment event in early December 2018.
African and African-American representation
Dwayne Wong (Omowale) writing in HuffPost saw the film and its comic origins as addressing "serious political issues concerning Africa's relationship to the West that is very rarely given the serious attention that it deserves", with Wakandans portrayed as suspicious towards outsiders. He concluded that while the country is fictional, the politics "are very real. The end of colonialism did not end Western tampering in Africa's politics". Carlos Rosario Gonzalez of Bam! Smack! Pow! said the struggle between T'Challa and Killmonger represents the collision of "what it means to be African" and "what Africa means to Afro-minorities today". In this view, Wakanda represents Africa without Western colonialism, and Killmonger shows us that "we can sometimes inevitably become what we seek to destroy," concluding that Killmonger wants to use Wakanda's resources to become a colonizer of the West while "Wakanda's conservative ways created the very problem that sought to destroy them, Erik Killmonger". Jelani Cobb, writing in The New Yorker, discussed the divide between Africans and African Americans, which he called a "fundamental dissonance". He felt T'Challa and Killmonger represented "dueling responses to five centuries of African exploitation at the hands of the West. The villain, to the extent that the term applies, is history itself". Cobb added that Black Panther is political in a way previous MCU films were not because in those "we were at least clear about where the lines of fantasy departed from reality [while this film is set in] in an invented nation in Africa, a continent that has been grappling with invented versions of itself ever since white men first declared it the 'dark continent' and set about plundering its people and its resources." Writing for The Atlantic, Adam Serwer argued against the assertion that Erik Killmonger was a representation for Black liberation, positing instead that he represented imperialism. He felt that this was emphasized through his actions, as Killmonger's attempts to take over several of the world's major cities notably include Hong Kong. Since China does not have a white Western hegemony in need of overthrowing, Killmonger's desire to conquer China was purely for the sake of power. Ultimately, he argues that "Black Panther does not render a verdict that violence is an unacceptable tool of Black liberation—to the contrary, that is precisely how Wakanda is liberated. It renders a verdict on imperialism as a tool of Black liberation, to say that the master's tools cannot dismantle the master's house."
Patrick Gathara, writing in The Washington Post, described the film as offering a "regressive, neocolonial vision of Africa", which — rather than a "redemptive counter-mythology" — offers "the same destructive myths". Gathara highlighted the Africa that is portrayed, still essentially a European creation, as being divided and tribalized, with Wakanda run by a wealthy and feuding elite that despite its advanced technical abilities does not have a means of succession beyond lethal combat. The Wakandans "still cleanly fit into the Western molds [of] a dark people in a dark continent" according to Gathara, and they "remain so remarkably unsophisticated that a 'returning' American can basically stroll in and take over ... [The film] should not be mistaken for an attempt at liberating Africa from Europe. Quite the opposite. Its 'redemptive counter-mythology' entrenches the tropes that have been used to dehumanize Africans for centuries." Christopher Lebron, in a piece for Boston Review, called the film racist because it depicts Black Americans who had been left in poverty and oppression, as exemplified by Killmonger, as still being "relegated to the lowest rung of political regard" in the film, treated as less deserving of empathy and less capable of their acts being deemed heroic, than even Ross' white spy. Lebron felt that T'Challa could have shown himself a good person by understanding how Killmonger was affected by American racism and T'Chaka's "cruelty", and could have agreed that justice sometimes requires violence as a last resort against oppression. He summed up by commenting that "In 2018, a world home to both the Movement for Black Lives and a president [Donald Trump] who identifies white supremacists as fine people, we are given a movie about Black empowerment where the only redeemed Blacks are African nobles [who] safeguard virtue and goodness against the threat not of white Americans or Europeans, but a Black American".
Future
Sequel
A sequel, Black Panther: Wakanda Forever, is scheduled to be released on November 11, 2022, with Coogler returning to write and direct. Nyong'o, Gurira,Freeman, Wright, Duke, and Bassett reprise their roles, while Tenoch Huerta is set to appear as an antagonist. In August 2020, Boseman died from colon cancer, surprising Coogler, Feige, and other executives at Marvel Studios, who had been unaware of Boseman's illness. Feige said in December 2020 that the role of T'Challa would not be recast, with Shuri expected to have a more prominent role in the sequel.
Untitled Wakanda series
In February 2021, a drama series set in Wakanda was revealed to be in development from Coogler for Disney+, as part of the larger overall deal between Coogler's production company Proximity Media and Walt Disney Television. By May 2021, Gurira had signed a deal to reprise her role as Okoye in the series, which was said to be an origin spin-off for the character.
Videos
Trailers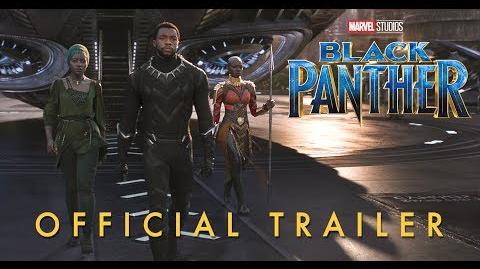 Reviews