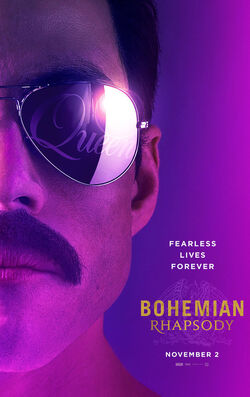 Fearless Lives Forever
Distributed By
20th Century Fox
Release Date
23 October 2018 (SSE Arena)
24 October 2018 (United Kingdom)
2 November 2018 (United States)
Rating


Bohemian Rhapsody is a biographical film directed by Bryan Singer. The cast of the film consists of Rami Malek, Lucy Boynton, Gwilym Lee, Ben Hardy, Joseph Mazzello, Aidan Gillen, Tom Hollander, and Mike Myers.
During the early 1970s, aspiring songwriter Freddie Mercury forms the rock band Queen alongside his new friends Brian May, Roger Taylor and John Deacon with his supportive companion and delinquent Mary Austin.
Their career is successful against all odds of getting their music to be heard. That is until the 1980s where Freddie contracts AIDS which alternates his personality and relationship with the band until 1985 when the band is given the chance to perform at Live Aid.
Main article: Bohemian Rhapsody/videos