Wiki Targeted (Entertainment)
Play Sound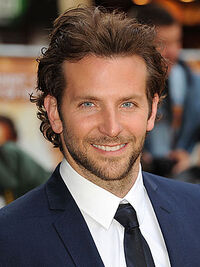 Bradley Cooper is one of Hollywood's busiest actors. He was most recently seen in the comedy "Yes Man," in which he co-starred with Jim Carrey under the direction of Peyton Reed, and in the ensemble romantic comedy "He's Just Not That Into You."
Following "The Hangover," he starred in several very different films in 2009: "All About Steve," a quirky tale in which Cooper plays the title role as the object of Sandra Bullock's attention; the horror thriller "Case 39," opposite Renee Zellweger; and the biopic "The Prince of Providence," in which he stars with Robin Williams and Oliver Platt. Cooper also appears in the anthology film "New York, I Love You," in a segment directed by Allen Hughes. The American version of "Paris, je t'aime," the film debuted at the 2008 Toronto Film Festival and is set for a 2009 release.
Cooper's earlier feature film credits include the romantic comedy "Failure to Launch," starring Matthew McConaughey, Sarah Jessica Parker and Zooey Deschanel; David Dobkin's comedy smash "Wedding Crashers," starring Vince Vaughn and Owen Wilson; and the indie comedy "Wet Hot American Summer," in which he made his feature film debut.
In addition to his film work, Cooper is well known to television audiences for his work on several hit series. He most recently had a recurring role on the critically acclaimed "Nip/Tuck," and also played the lead role on the comedy series "Kitchen Confidential," based on the trials and tribulations of renowned chef and author Anthony Bourdain. His other notable credits include regular or recurring roles on "Alias," starring Jennifer Garner; "Jack & Bobby," with Christine Lahti; "Touching Evil," for the Hughes brothers; and "The $treet." He was also seen in guest spots on such shows as "Law & Order: SVU," "Law & Order: Trial by Jury" and "Sex and the City."
In 2006, Cooper made his Broadway debut in the play "Three Days of Rain," in which he starred with Julia Roberts and Paul Rudd under the direction of Joe Montello. More recently, he joined the cast of the Theresa Rebeck play "The Understudy," which premiered to sold-out audiences at the Williamstown Theatre Festival and has been invited to move to Broadway in 2009.
Born in Philadelphia, Cooper graduated with honors from the English program at Georgetown University before moving to New York City to obtain his Masters in the Fine Arts program at the Actors Studio Drama School at the New School University.