Wiki Targeted (Entertainment)
Play Sound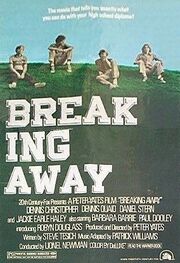 Breaking Away is a 1979 American coming of age comedy-drama film that follows a group of four male teenagers in Bloomington, Indiana, who have recently graduated from high school. It stars Dennis Christopher, Dennis Quaid, Daniel Stern (in his first film role), Jackie Earle Haley, Barbara Barrie and Paul Dooley.
The film was written by Steve Tesich (an alumnus of Indiana University) and directed by Peter Yates. It was shot in and around Bloomington and on the university's campus.
Breaking Away won the 1979 Academy Award for Best Original Screenplay for Tesich, and received nominations in four other categories (including Best Picture). It also won the 1979 Golden Globe Award for Best Film (Comedy or Musical), and received nominations in three other Golden Globe categories.
As the film's young lead, Christopher won the 1979 BAFTA Award for Most Promising Newcomer and the 1979 Young Artist Award for Best Juvenile Actor, as well as garnering a Golden Globe nomination as New Star of the Year.
The film is ranked eighth on the List of America's 100 Most Inspiring Movies compiled by the American Film Institute (AFI) in 2006. In June 2008, AFI announced its "Ten top Ten"—the best ten films in ten "classic" American film genres—after polling over 1,500 people from the creative community. Breaking Away was acknowledged as the eighth best film in the sports genre.[3][4]
Dave (Dennis Christopher), Mike (Dennis Quaid), Cyril (Daniel Stern) and Moocher (Jackie Earle Haley) are four working-class friends, living in the college town of Bloomington, Indiana. Now turning 19 years of age, they all graduated from high school the year before and are not sure what to do next with their lives.
The four friends spend much of their time together swimming in an old abandoned water-filled quarry, but also often clash with the more affluent Indiana University students in their hometown, who habitually refer to them as "cutters," a derogatory term for locals stemming from the local Indiana Limestone industry and the stonecutters who worked the quarries. (In reality, the term for locals is "stoners," but "cutters" was used for the movie to avoid connotations to illegal drugs.)
Dave is obsessed with competitive bicycle racing, particularly the Italians, because he recently won a Masi bicycle. His down-to-earth father, Ray (Paul Dooley), a former stonecutter who now operates his own used car business (sometimes unethically), is puzzled and exasperated by his son's love of Italian music and culture, which Dave associates with cycling. However, his mother Evelyn (Barbara Barrie) is more understanding.
Dave develops a crush on a university student named Katherine (Robyn Douglass) and masquerades as an Italian exchange student in order to romance her. One evening he serenades "Katerina" outside her dorm, with Cyril providing guitar accompaniment. When her boyfriend Rod (Hart Bochner) finds out, he and some of his fraternity brothers beat up Cyril, mistaking him for Dave. Though Cyril wants no trouble, Mike insists on tracking down Rod and starting a brawl. The University president (then-University president Dr. John W. Ryan) reprimands the students for their arrogance toward the "cutters" and over their objections invites the latter to participate in the annual Indiana University Little 500 race.
When a professional Italian cycling team comes to town for a racing event, Dave is thrilled to be competing with them. However, the Italians become irked when Dave is able to keep up with and even speak to them in Italian during the race. One of them jams a tire pump in Dave's wheel, causing him to crash, which leaves him disillusioned and depressed. Although he had been upset with his own father earlier for his unethical business practices, Dave now realizes that everyone cheats.
Dave's friends persuade him to join them in forming the locals' cycling team for the Little 500. Dave's parents provide T-shirts with the name "Cutters" on them. Dave's father remarks how, when he was a young stonecutter, he was proud to help provide the material to construct the university, yet never felt comfortable being on campus. Dave is so much better than the other competitors that he rides without a break and builds up a large lead, while the other teams have to switch cyclists every few laps. However, he is then injured and has to stop. After some hesitation, Moocher, Cyril and Mike take turns pedaling, but soon their lead evaporates. Finally Dave has his feet taped to the bike pedals (signifying that he must complete the race without substitution) and starts to make up lost ground; overtaking Rod on the last lap, he wins for the jubilant Cutters team.
Dave's father is immensely proud of his son's accomplishment, and takes to riding a bicycle himself. Having finally decided on a direction in life, Dave later enrolls at the university himself, where he meets a pretty, newly arrived French student. Soon, he is extolling the superiority of French cyclists and culture, and the film ends with Dave greeting his father with "Bonjour, Papa" much to his father's astonishment.
The Little 500 bicycle race that forms the centerpiece of the plot is a real race held annually at Indiana University. A re-enactment of the race was staged for the film in the "old" Memorial Stadium on the IU campus, which was demolished in 1982, 4 years after the filming of the movie (summer of 1978).
The team is based on the 1962 Phi Kappa Psi Little 500 champions, which featured legendary rider and Italian enthusiast Dave Blase, who provided screenwriter and fellow Phi Kappa Psi team member Steve Tesich the inspiration for the main character in the movie.[5] Blase, together with team manager Bob Stohler, provided the name of this character: Dave Stoller.[6] In the 1962 race, Blase rode 139 out of 200 laps[5] and was the victory rider crossing the finish line, much like the main character in the film. Blase himself appears in the movie as the race announcer.
Tesich would go on to script another cycling-themed film, American Flyers (1985), starring Kevin Costner.
[2][3]Dave's house[4][5]The pizza restaurant in the film, Pagliai's, is now Opie Taylors The scenes filmed in and around Bloomington, Indiana, were filmed during the summer of 1978. Many of the scenes in the movie were filmed on the Indiana University campus; glimpses of the Indiana Memorial Union are in the background of Dave's ride through campus. Dave Stoller's house in the film is located at the corner of S. Lincoln St. and E. Dodds St. The pizza restaurant in the film ("PAGLIAI'S") is now Opie Taylors on the east side of North Walnut Street, across from the Monroe County Courthouse. Other scenes were filmed outside the Delta Delta Delta sorority house (818 E. 3rd St) and along Jordan Street.
Dave's "ecstasy ride" on the wooded road after first meeting Kathy (where his bike tire blew) was filmed on the "West Gate Road" in Indiana's Brown County State Park, 14 miles east of Bloomington on State Road 46.
Two other scenes were filmed on W. 7th St.: one at Fairview Elementary, the other three blocks east near the intersection of W. 7th St. and N. Madison (the old railroad tracks have since been removed). A scene in which Dave runs a red light in front of his father was filmed at the southwest corner of the Monroe County Courthouse, at the intersection of College St. and W. 5th St (a few seconds before he runs it, the light is visible as he rides by the courthouse and sees Moocher and Nancy). The starting-line scene of the "Cinzano 100" bicycle race was at the intersection of Indiana State Roads 46 and 446 on the city's eastern edge.
The old limestone quarry where Dave and his friends swim is on a private property in Perry Township south of Bloomington, at the end of East Empire Mill Road (off of old State Road 37), and is closed to visitors. It is now often called the "Roof Top" quarry, but was originally known as "The Long Hole" or "Sanders" quarry.
The used car lot ("Campus Cars") that Dave's father owns was on S. Walnut St., and was a real used car lot for many years, but now has two small commercial buildings on the property; it is located at 1010 S. Walnut St. Next door is the local Honda motorcycle franchise seen in the background of the famous "Refund? REFUND??" scene; it remains there today.
Tesich and Yates worked again on the film projects Eyewitness (1981) and Eleni (1985).
The film received extremely positive reviews upon release in 1979. The film currently has 94% on Rotten Tomatoes.[7] The movie grossed approximately $20 million in North America.[2]
A short-lived television series based on the film, also titled Breaking Away, aired in 1980. Barrie, Haley and Ashton reprised their roles in the prequel series.
The 1992 Bollywood film Jo Jeeta Wohi Sikandar, starring Aamir Khan, is based on Breaking Away, though it is not a scene-to-scene copy and has a different storyline.
The film inspired the song "One For the Cutters" by The Hold Steady, which appeared on their 2008 album Stay Positive.
Community content is available under
CC-BY-SA
unless otherwise noted.