Boba Fett Returns - The Loop
Play Sound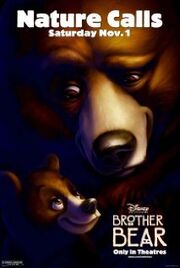 Original
Opening Logo and Title Card
Walt Disney Pictures
Presents

BROTHER
BEAR
Ending Credits and Logo

DIRECTED BY
Aaron Blaise
& Robert Walker
PRODUCED BY
Chuck Williams
SCREENPLAY BY
Tab Murphy
AND
Lorne Cameron
& David Hoselton
AND
Steve Bencich
& Ron J. Friedman
SONGS BY
Phil Collins
SCORE COMPOSED BY
Mark Mancina
AND Phil Collins

ASSOCIATE PRODUCER
Igor Khait
EDITOR
Tim Mertens
ART DIRECTION
Robh Ruppel
BACKGROUND STYLIST
Xiangyuan Jie
STORY SUPERVISOR
Stephen Anderson
LAYOUT SUPERVISOR
Jeff Dickson
BACKGROUND SUPERVISOR
Barry R. Kooser
CLEAN-UP SUPERVISOR
Philip Scott Boyd
AND
Christine Lawrence Finney

VISUAL EFFECTS SUPERVISOR
Garrett Wren
ARTISTIC COORDINATOR
Kirk Bodyfelt
ASSISTANT ARTISTIC COORDINATOR
Paul Kashuk, Jr.
ASSOCIATE EDITOR
Jeff Draheim
PRODUCTION MANAGER
Bruce Anderson

CAPS SUPERVISORS
SCENE PLANNING/CAMERA John Cunningham
ANIMATION CHECK Daniel Cohen
2D ANIMATION PROCESSING David Braden
COLOR MODELS Irma Cartaya-Torre
ANIMATION SUPERVISOR Libby Wilson
PAINT Hortensia M. Casagran
COMPOSITING Jason Leonard Robert Buske
MANAGER Fran Kirsten
FILM & DIGITAL SERVICES William Fadness
VISUAL DEVELOPMENT
Hans Bacher – Richie Chavez - Paul Felix
Douglas Henderson – Xiangyuan Jie - Saiping Lok
Bill Perkins – Franc Reyes - Harald Siepermann
Marcelo Vignali – Terryl A. Whitlatch
CHARACTER DESIGN Rune Brandt Bennicke
CHARACTER SCULPTURES Tony Cipriano

STORY
Nathan Greno - Stevie Wermers-Skelton
Kevin Deters - Woody Woodman
Thom Enriquez - Kevin Harkey
Broose Johnson - John Norton - John Puglisi
LAYOUT
JOURNEYMEN
Billy George - Craig Anthony Grasso - Andrew Edward Harkness
Andrew Hickson - Tom Humber - Richard Carl Livingston
Armand Serrano
KEY ASSISTANTS
Peter J. DeLuca - Tom Dow - Bill Hodman
Kevin Proctor - Kenneth Spirduso - George P. Villaflor
ASSISTANT Franc Reyes
BLUE SKETCH ARTIST Joann Tzuanos

CHARACTER ANIMATION
KENAI-BEAR
SUPERVISING ANIMATOR Byron Howard
VOICE Joaquin Phoenix
ANIMATORS
Jonathan Annand - Gregg Azzopardi - Robert Bryan
Don Crum - Steve Mason - Branko Mihanovic
Jean Claude Tran - John Webber - Ian White
KODA
SUPERVISING ANIMATOR Alex Kupershmidt
VOICE Jeremy Suarez
ANIMATORS
Travis Blaise - Jason Boose - Darko Cesar
Robert O. Corley - Sasha Dorogov - Trey Finney
Sarah Mercey-Boose
DENAHI
SUPERVISING ANIMATOR Ruben A. Aquino
VOICE Jason Raize
ANIMATORS
Dominic M. Carola - Theodore Anthony Lee Ty
KENAI-HUMAN
SUPERVISING ANIMATOR James Young Jackson
VOICE Joaquin Phoenix
ANIMATORS
Michael Benet - John Hurst
RUTT
LEAD ANIMATOR Tony Stanley
VOICE Rick Moranis
ADDITIONAL ANIMATION David W. Zach
TUKE
LEAD ANIMATOR Broose Johnson
VOICE Dave Thomas
ADDITIONAL ANIMATION
Tom Bancroft - Robert Bryan

SITKA
LEAD ANIMATOR Anthony Wayne Michaels
VOICE D.B. Sweeney
TANANA
LEAD ANIMATOR Tom Gately
VOICE Joan Copeland
TUG & KODA'S MOM
LEAD ANIMATOR Rune Brandt Bennicke
VOICE OF TUG Michael Clarke Duncan

ROUGH INBETWEENERS
Paulo R. Alvarado - Todd Bright - Brad Condie
Cindy Ge Benet - Krista Heij - Paul McDonald
Bob Spang - Ronnie Williford
BACKGROUNDS
JOURNEYMEN
Ron De Felice - Christopher F. Greco - Dean Kovats
Xin-Lin Fan - David Murray - William T. Silvers, Jr.
Robert E. Stanton - Sean Sullivan - David Wang (Ying Guang)
David Yorke
ASSISTANT Kenneth Spirduso
DIGITAL TOUCH-UP Kathy Schoeppner
DIGITAL TOUCH-UP (CALIFORNIA) Christine Laubach

CLEAN-UP ANIMATION
KENAI-BEAR
LEAD KEY Rachel Renee Bibb
KEY ASSISTANTS
James A. Harris - Maurilio Morales - Teresita Quezada-Geer
Lon Smart - Kim Torpey - Jane Zhao
ASSISTANTS
Philip J. Allora - Amy Drobeck - Sean Luo
Patrick Tuorto - Ginger Wolf Browning
BREAKDOWN Daniel Lawrence Riebold
INBETWEENERS
Jeff Brown - David Holbrook - Jeremy Falkowski

KODA
LEAD KEY Sam Ewing
KEY ASSISTANTS
Pamela Mathues - Thomas Thorspecken
ASSISTANTS
Katherine Blackmore - Jason Peltz - John J. Pierro
BREAKDOWN
Frank R. Cordero - Tom de Rosier
Perry Farinola - Steven Charles Geer
INBETWEENERS Tony Santo

DENAHI
LEAD KEY Daniel A. Gracey
KEY ASSISTANTS
Merritt Faye Andrews - Roland Mechael B. Ilagan
ASSISTANT Seung Beom Kim
BREAKDOWN
Stephen Nelson Austin - Lisa G. Lanyon
Elsa Sesto-Vidal - Chad Thompson
INBETWEENER
Steven Quentin
KENAI-HUMAN
LEAD KEY Bryan M. Sommer
KEY ASSISTANT Ron Cohee
ASSISTANTS
Janelle Bell-Martin - Scott A. Burroughs - Richard S. Morgan
BREAKDOWN
Dominic A'Vant - Kevin A. Barber
INBETWEENER Danny R. Santos

RUTT & TUKE
LEAD KEY Monica Murdock
KEY ASSISTANTS
Mi Yul Lee - John R. Walsh
ASSISTANT Ron Zeitler
BREAKDOWN
Russell Braun - Phillip A. Jones
Tim Massa - Benjamin William Adams
INBETWEENERS
Carlos R. Arancibia - Jacqueline M. Shepherd

SITKA & MISCELLANEOUS CHARACTERS
LEAD KEY Yer (Za) Vue
KEY ASSISTANT Caroline Clifford
BREAKDOWN
Rebecca Wrigley - Hugo J. Giraud Collazo - Natalie White
INBETWEENER David Mar
TANANA & MISCELLANEOUS BEARS
LEAD KEY Tom Fish
KEY ASSISTANT Vincent Siracusano
ASSISTANTS
Tammy Daniel-Biske - Antony de Fato
BREAKDOWN Peter Raymundo
INBETWEENER Greg Hill

TUG & KODA'S MOM
LEAD KEY David T. Nethery
KEY ASSISTANTS Dan Daly - Rusty Stoll
BREAKDOWN
Brian Beauchamp - Lee Crowe
INBETWEENERS
Frank Digregorio - Jason Pichon - Christian Slade

MAMMOTHS & MISCELLANEOUS ANIMALS
LEAD KEY Kellie D. Lewis
ASSISTANTS
Phil Noto - John O'Hailey
INBETWEENER Matt Whitlock
VISUAL EFFECTS ANIMATION
ANIMATORS
Joseph F. Gilland
Robert Bennett - Jazno Francoeur - Troy A. Gustafson
Dan Lund - Gary Schumer
John David Thornton - Tony West
3D EFFECTS ANIMATORS
Darlene E. Hadrika - Jason William Wolbert
KEY ASSISTANT ANIMATORS
Paul Briggs - Michael L. Oliva
Paitoon Ratanasirintrawoot - Michael Todd Montgomery
ASSISTANT ANIMATORS
Robert Blalock - John Cashman
Sean Simon Ramirez - Lora M. Spran
3D WATERFALLS Derrick L. McKenzie
BREAKDOWN
Joel K. Biske - Christopher Robert Bromby - William J. Haas
Heather M. Shepherd - Rochelle Smith
X SHEET / DATA ENTRY Kip Lanai Stone

DIGITAL PRODUCTION
DIGITAL PRODUCTION MANAGER Randy Parker
CGI SUPERVISOR Scott Kersavage
LEAD MODELER Brian Jefcoat
LOOK DEVELOPMENT SUPERVISOR Tony Plett
3D EFFECT TDs
Kirk Alan Garfield - Chris Hummel - Andrea Losch
MODEL TD / HERD ANIMATION Sean Locke
LOOK DEVELOPMENT TD Chalermpon (Yo) Poungpeth
3D CHARACTER ANIMATION James Michael Crossley
ASSISTANT TDs Carlos Muñoz - Michael Budd - Jamie Kirschenbaum
MODEL DEVELOPMENT Sandra Groeneveld - Eric Guaglione

EDITORIAL
FIRST ASSISTANT EDITOR Brion McIntosh
AVID ASSISTANT EDITOR Shannon Stein
ANIMATION EDITOR Beth A. Collins-Stegmaier
PRODUCTION
PRODUCTION ACCOUNTANT Stephanie Mendoza
ASSISTANT PRODUCTION ACCOUNTANT Shirley Collier
PARIS PRODUCTION MANAGER Coralie Cudot-Lissillour
ASSISTANT PRODUCTION MANAGERS
STORY Judy Wolf
EDITORIAL Jeff Hand
LAYOUT Krissie Kaufman
ANIMATION Cindy Leopold Beltz
CLEAN-UP Jackie L. Shadrake
VISUAL EFFECTS Kellie M. Hoover
SWEATBOX Stephen R. Craig
BACKGROUNDS / ANIMATION CHECK Lisa Watts
COLOR MODELS Shellie West
CAPS Michael Brassell
DIGITAL PRODUCTION Jennifer Christine Vera
PRODUCTION Stephanie Green Spahn
CALIFORNIA PRODUCTION Jenni Magee-Cook - Michael J. Miller
PUBLICITY FLORIDA Kelly Slagle
PUBLICITY CALIFORNIA Kelley Derr
PARIS PRODUCTION Michael de la Cruz - Etienne Longa - Frederika Pepping
CAPS MANAGEMENT
MANAGER DISK SPACE & RETAKES Brenda McGirl
ASSISTANT MANAGER DISK SPACE & RETAKES Ben Lemon
ASSISTANT MANAGER DIGITAL & FILM SERVICES Stephanie C. Herrman

SCENE PLANNING
SCENE PLANNERS
Mary Lescher - Paul Steele - Christopher Holland
SCENE PLANNING PRE-CHECKER / CAMERA OPERATOR
Tom Grealy
ANIMATION CHECK
ASSISTANT SUPERVISOR Albert Francis Moore
ANIMATION CHECKERS
Jan Barley Gutowski - Jacqueline Hooks-Winterlich
Todd LaPlante -Rosaleen O'Byrne
2D ANIMATION PROCESSORS
Barbara J. Poirier - Leigh A. Nelson - Colleen Elise Tomlinson
COLOR MODEL STYLISTS
Cheryl Davis - Kenneth Carlyle Landrum
Debra Siegel-Furlin - Jaison Duell Wilson
COLOR MODEL MARK-UP / REGISTRATION / PAINTING
Karrie Keuling Michaels - Laura Lynn F. Rippberger
ASSISTANT PAINT SUPERVISORS
Irma Velez - Russell Blandino - Phyllis Estelle Fields
PAINT MARK-UP
Carmen Regina Alvarez - Roberta Lee Borchardt
Casey Clayton - Patricia L. Gold
Bonnie A. Ramsey - Myrian Ferron Tello
REGISTRATION
Leyla C. Amaro-NodasKaran Lee-Storr
PAINTERS
Joyce Alexander - Bill Andres - Kirk Axtell. II
Joey Calderon - Janice M. Caston - Karen N. China
Lea Dahlen - Robert Dettloff - Michael Foley
Debbie Green - Vernette Griffee - Debbie Henson
Janette Hulett - David Karp - Angelika R. Katz
Misoon Kim - Sally-Anne King - Kukhee Lee
Heidi Lin Mahoney - Monica Albracht Marroquin - Beth Ann McCoy-Gee
Teri N. McDonald - Catherine Mirkovich-Peterson - Deborah Jane Mooneyham
Margarito Murillo - Ofra Afuta Naylor - Karen Lynne Nugent
Eric Oliver - Devon Oddone - Rosalinde Praamasma
Yolanda Rearick - Saskia Raevouri - Ania Rubisz
Christine Schultz - Heidi Woodward Shellhorn - Grace H. Shirado
Roxanne M. Taylor - Tami Terusa - Christine Toth
Britt-Marie Van Der Nagel - David J. Zywicki
FINAL CHECKERS
Andrew Simmons
Lisa Padawer Ratanasirintrawoot
COMPOSITING

COMPOSITOR Earl Scott Coffman
CALIFORNIA SUPERVISOR James "JR" Russell
FILM & DIGITAL SERVICES

DIGITAL FILM RECORDER OPERATORS John Aardal - William Aylsworth - John Derderian - Jennie Kepenek Mouzis
COLOR TIMER Bruce Tauscher
TECHNICAL SUPERVISOR Christopher W. Gee
CAMERA DEPARTMENT COORDINATOR Suzy Zeffren-Rauch
PRODUCTION ASSISTANT Jamal M. Davis

CASTING BY
Mary Hidalgo
Matthew Jon Beck
CAST
KENAI Joaquin Phoenix
KODA Jeremy Suarez
DENAHI Jason Raize
RUTT Rick Moranis
TUKE Dave Thomas
SITKA D.B. Sweeney
TANANA Joan Copeland
TUG Michael Clarke Duncan
OLD DENAHI Harold Gould
RAM #1 Paul Christie
RAM #2 Danny Mastrogiorgio
OLD LADY BEAR Estelle Harris
MALE LOVER BEAR Greg Proops
FEMALE LOVER BEAR Pauley Perrette
FOREIGN (CROATIAN) BEAR Darko Cesar
CHIPMUNKS Bumper Robinson
NARRATOR (INUIT) Angayuqaq Oscar Kawagley, PhD
ADDITIONAL VOICES
Pat Pinney - Brian Posehn - Phil Proctor
Pam Seagall - Bob Bergen - Rodger Bumpass
Jennifer Darling - Debi Derryberry - Bill Farmer
Hope Levy - Sherry Lynn - Mickie McGowan
Caitlin Rose Anderson - Maxi Anderson - Carmen Carter
Randy Crenshaw - Trey Finney - Ben Johnson
Bethany Johnson - Luke Johnson - B. Wyatt Johnson
Amy Keys - Rick Logan - Susan Stevens Logan
Arnold McCuller - Tim Mertens - Josef Powell
Lamont Van Hook - Julia Tillman Waters - Maxine W. Waters
Oren Waters - Willie Wheaton - Fred White
Terry Wood - Terry Young
VOICE COACHES
Nancy Cartwright - Rick Dempsey

ADDITIONAL CASTING BY
Ruth Lambert, C.S.A.
Jen Rudin, C.S.A.
MUSIC
"GREAT SPIRITS"
PRODUCED AND ARRANGED BY
Phil Collins AND Mark Mancina
PERFORMED BY Tina Turner
"TRANSFORMATION"
PRODUCED AND ARRANGED BY
Mark Mancina AND Phil Collins
CHORAL ARRANGEMENT BY Eddie Jobson
PERFORMED BY The Bulgarian Women's Choir
"WELCOME"
PRODUCED AND ARRANGED BY
Phil Collins AND Mark Mancina
ADDITIONAL VOCAL PRODUCTION BY Chris Goldsmith
PERFORMED BY The Blind Boys of Alabama
AND Phil Collins WITH Oren Waters
"ON MY WAY"
PRODUCED AND ARRANGED BY
Phil Collins AND Mark Mancina
PERFORMED BY Phil Collins AND Jeremy Suarez
"NO WAY OUT (THEME FROM BROTHER BEAR)"
PRODUCED AND ARRANGED BY
Phil Collins AND Mark Mancina
PERFORMED BY Phil Collins
"LOOK THROUGH MY EYES"
PRODUCED BY Rob Cavallo
ARRANGED BY Phil Collins AND Rob Cavallo
STRINGS ARRANGED AND CONDUCTED BY David Campbell
RECORDED BY Allen Sides
MIXED BY Chris Lord-Alge
PERFORMED BY Phil Collins
"NO WAY OUT (THEME FROM BROTHER BEAR)"
(PHIL COLLINS VERSION)
PRODUCED AND ARRANGED BY
Phil Collins AND Chris Montan
MIXED BY Chris Lord-Alge
PERFORMED BY Phil Collins

ORCHESTRATIONS BY David Metzger
VOCAL ARRANGENENTS BY Phil Collins - Mark Mancina - David Metzger
SONGS RECORDED AND MIXED BY Frank Wolf AND Steve Kempster
SCORE RECORDED AND MIXED BY Steve Kempster
MUSIC EDITOR Earl Ghaffari
MUSIC PRODUCTION SUPERVISOR Tom MacDougall
MUSIC PRODUCTION MANAGER Andrew Page
MUSIC PRODUCTION COORDINATOR Deniece Hall
TECHNICAL CONSULTANT Chuck Choi
ORCHESTRA CONDUCTED BY Don Harper
VOCAL CONTRACTOR Carmen Carter AND Bobbi Page
SONGS CONTRACTED BY Reggie Wilson
SCORE CONTRACTED BY Sandy De Cresent
SUPERVISING MUSIC COPYIST Booker White - Walt Disney Music Library
ASSISTANT MUSIC EDITOR Daniel Gaber
MUSIC PRODUCTION ASSISTANTS Joel Berke - Jill Iverson
SCORE ASSISTANT Johnny Whieldon
"TRANSFORMATION" INUIT TRANSLATION Lorena Kapniaq Williams
CHORAL ARRANGEMENT BY Eddie Jobson
FEATURING
The Bulgarian Women's Choir

PRODUCTION
ASSISTANTS TO THE PRODUCER Mimi Doss - Virginia Perry Smith
EXECUTIVE ASSISTANT Melissa Rivas-Torres
ASSISTANT TO PRODUCTION MANAGER (PARIS) Christelle Kam

PRODUCTION COORDINATORS
(LOS ANGELES)
DISK SPACE & RETAKES
Rikki Chobanian - Renato Lattanzi - Michael Martines
PRODUCTION ASSISTANTS
Garret E. Albritton - Christin Ciaccio Briggs - Susan Childs Crum
Nanette K. Drumtra - Jennifer Gibson - Michellina Carola Greaty
Jennifer L. Kagel - Anne-Marie Martinez - Charlene Moncrief
Jennifer R. Peltz - William J. Sperounis - Andrea Salhab
David Willnerd
Rodolfo Cardenas-Rios - Bérangère Frésard - Jeffry G. Georgianni
Ninka K. Mortensen-Clérin - Daryl Rosenberg - Nora Quinn Souffir
Jennifer Tymkiw - Dawn M. Watson
ADDITIONAL STORY
Tim Hodge - Tom LaBaff - Ray Shenusay
Brian Pimental - Jim Story
Don Dougherty - Don Hall - Samuel Levine
Aurian Redson - Chris Williams
ADDITIONAL STORY MATERIAL
Jeff Hand
ADDITIONAL VISUAL DEVELOPMENT
Jonathan Annand - Sunny Apinchapong - David Crane
Guy Deel - Roderick Maki - James Martin
Gabor "Tom" Steisinger - Chuck Vollmer
ADDITIONAL DIGITAL PRODUCTION SUPPORT
Rob Bekuhrs - Simon O'Connor
Jayme Wilkinson - Joseph M. Lohmar
ADDITIONAL ANIMATION
(LOS ANGELES & PARIS)
Wesley Chun - Doug Frankle - Kristen Heller
Arturo Hernandez - Mark Koetsier - Cynthia Landeros
Douglas Post - Albert Salgado - Chris Sauve
Susan Sugita - Marshall Toomey - Bill Waldman
Georges Abolin - Marco Allard - Juanjo Guarnido
Gontran Hoarau - Catherine Poulain
ADDITIONAL ROUGH INBETWEENERS
Carlos Arancibia - Amy Drobeck - Richard S. Morgan
Daniel Lawrence Riebold - Patrick Tuorto - Ginger Wolf-Browning
ADDITIONAL CLEAN-UP (PARIS)
Florence Montceau - Laurence Adam-Bessière - Claire Bourdin
Philippe Briones - Christine Chatal Poli - Farouk Cherfi
Nicole de Bellefroid - Bernard Dourdent - Javier Espinosa Bañuelos
Maria Angela Iturriza Freire - Christine Landes - Ludovic Letrun
Philippe Malka - Gizella Maros Gregan - Benoît Meurzec
Pierre Seurin Landreau - Phirum Sou - Sylvaine Terriou
Marc Tosolini - Xavier Villez
ADDITIONAL CLEAN-UP (LOS ANGELES)
Vera Pacheco - James Burks - Michael Cedeno
Chang Cho - Cliff Freitas - Suzanne Hirota
Allison Hollen - Yung Soo Kim - Brian B. McKim
Stephanie Olivieri - Flora Sung Sook Park - David Recinos
Mary-Jean Repchuk
ADDITIONAL BACKGROUNDS (LOS ANGELES)

SUPERVISOR Doug Ball
Carl Jones - James J. Martin - Thomas Woodington
ADDITIONAL EFFECTS (PARIS)
Thierry Chaffoin - Helene Cnockaert - Mathilde Danton
Adeline Monin - Maria Nemeth - Mouloud Oussid
Gregory Regeste - Nicolas Ruedy - Karel Zilliacus
TECHNOLOGY
MANAGER OF TECHNOLOGY Mark W. Gilicinski
Ross Allard - Raul Anaya - Matt Bialosuknia
Richard Bingle - Michael Clay - Jefferson Crutchfield
Larry Grant Edminister - Juan Antonio Fernandez Bayon - Don Gworek
Dwayne Harris - Dana Haukoos - Terence Sean Kane
James Edward Leslie - Tammy Nabors Middleton - Marisa Ppaolercio
Carmen Binette Perreault - Michael Saitta - Barbara Thornton
John W. Webber
ADDITIONAL TECHNOLOGY SUPPORT (CALIFORNIA)
Brett Achorn - Hank Barrio - Jason L. Bergman
Michael S. Blum - Brad Brooks - Letha L. Burchard
William T. Carpenter - Peter Lee Chun - Tom Corrigan
Charles E. Deal - Brendan Keith Duncan - Norbert Faerstain
Megan Jana Fish - James P. Hurrell - Michael Lee James
Kevin E. Keech - Kimberly W. Keech - Mike Kliewer
Catherine Lam - Joseph M. Lohmar - John A. Loughini
James MacBurney - Thaddeus P. Miller - Ramon Montoya-Vozmediano
Ken Moore - Greg Neagle - Tamara Payton
Matt Schnittker - Arthur H. Shek - Chris Sparkes
Byron Stultz - Michael Tighe - Bond-Jay Ting
Alex Torija-Pairs - Lewis Wakeland - Terence Worley
Fran Raquel Zandonella - Michael Zarembski - John Yoon
ADDITIONAL TECHNOLOGY SUPPORT (PARIS)
François Desnus - Pascal Lopes - Jean Mandonnet
Christophe Meslin - Nathalie Roca-Ripoll
POST PRODUCTION
POST PRODUCTION MANAGER Bérénice Robinson
FLORIDA POST PRODUCTION SUPERVISOR Leslie Moes
POST PRODUCTION COORDINATOR Valerie Anne Flueger
SOUND EDITORIAL SERVICES BY Technicolor® - Weddington
SUPERVISING SOUND EFFECTS EDITORS Richard L. Anderson, M.P.S.E. - Michael Chock, M.P.S.E.
SOUND EFFECTS EDITOR Steve Lee
ADR SUPERVISOR Petra Bach
ADR EDITOR Piero Mura
FOLEY EDITOR Reuben Simon
ASSISTANT SOUND DESIGNER Mark Binder
ASSISTANT SOUND EFFECTS EDITORS Mark Coffey - Ralph Stuart
FOLEY BY Warner Bros. Studios Facilities
FOLEY ARTISTS John Roesch - Alyson Dee Moore
FOLEY MIXER Mary Jo Lang
FOLEY RECORDIST Scott Morgan
SUPERVISING SOUND MIXERS Mark Smith - Ron Bartlett
ORIGINAL DIALOGUE RECORDING ENGINEER Vince Caro
RE-RECORDISTS Eric Bretter - Eric Hosmer
RE-RECORDED AT Warner Bros. Studios Facilities
STAGE ENGINEERS Evan Daum - Mike Novitch
ADDITIONAL DIALOGUE RECORDING ENGINEERS Jackson Schwartz - Daniel Cubert - James A. Samuel Sandweiss - Doc Kane - Rob Hill
COLOR TIMER Chris DeLa Guardia
NEGATIVE CUTTING Buena Vista Negative Cutting - Mary Beth Smith - Rick Mackay
END TITLE CREDITS Buena Vista Imaging
TRANSFER ROOM OPERATOR Robert H. Bagley - Robert J. Hansen
POST PRODUCTION ENGINEER Michael Kenzi Tomizawa
POST PRODUCTION AUDIO COORDINATOR Christopher Pinkston
PRINTS BY Technicolor® Creative Services

VERY SPECIAL THANKS TO THE FOLLOWING SUPPORT STAFF AT WALT DISNEY FEATURE ANIMATION WHOSE TIRELESS EFFORTS MADE THIS FILM POSSIBLE
Franchesca Arata - Travis Beckner - Dianne Bennaissa
Steve Berry - Kevin L. Briggs - Donna Cartee Brown
Chantal Beck Bumgarner - Andy Burnell - Jayne Carter
Marian Carchidi - Nathalie Cuzenic Christopher - Paul Colacchio
Lisa Cook - Alex Chatfield - Melissa Crabtree
Dana Rosati Dillon - Joshua P. Edwards - Natasha Foster-Owens
Maggie Walsh Gisel - Maryann Gromoll - Amy Hodman
Karen Greco Hofheimer - Scott Hutton - Steve Langdon
Jack P. Lew - Rachele Oliver Lord - Francine Luna
Sanj Marosi - Caroyln McClendon - James Melton
Todd Michael - Heath J. Miller - Jim Miller
James M. Moreno - Tina O'Hailey - Lynn Oldenborg
Pat Parnow - Gregory F. Plotts - Patrick G. Ramos
Beth Rega - Jolie Rivera - Paul Roderick & Talkeetna Air Taxi
Chad Rogers - Hermann H. Schmidt - Scott Seiffert
Steve Specht - Stuart Sumida - Kris Taft
Shannon Beatty Tichenor - Timothy Treadwell - John & Monica Welde
Bambi & Bruno - Jo Katherine Wentworth - Jennifer Lester Westmoreland
Phil Collins APPEARS COURTESY OF Atlantic Records
Tina Turner APPEARS COURTESY OF Parlophone / EMI Records Limited
The Bulgarian Women's Choir APPEARS COURTESY OF
Globe Music Media Arts Corp. / Jaro Medien GmbH
The Blind Boys of Alabama APPEARS COURTESY OF Real World Records, Lltd.
Rob Cavallo APPEARS COURTESY OF Warner Bros. Records Inc.

COPYRIGHT © MMIII DISNEY ENTERPRISES, INC. ALL RIGHT RESERVED.
THIS MOTION PICTURE WAS CREATED BY WALT DISNEY PICTURES AND TELEVISION
FOR PURPOSES OF COPYRIGHT LAW IN THE UNITED KINGDOM.

DISTRIBUTED BY
Buena Vista Pictures Distribution