Buddy is a 1997 film directed by Caroline Thompson and produced by Columbia Pictures with help from Jim Henson Pictures. It was released on June 6, 1997.
The film was based on the life of a gorilla called Massa with elements of socialite Gertrude Lintz's other gorilla Gargantua (who was called "Buddy" at the time).
Millionaire animal lover and overall spoiled rich girl Gertrude "Trudy" Lintz (Rene Russo) adds Buddy, a gorilla, to her family.
Buddy finds life in the city very difficult to deal with. Although Trudy raises him as her own son in her mansion (which also houses a few comical chimpanzees, a kitten, a horse, a cheeky, talking green parrot, her prize-winning champion pack of Briards, a raccoon and a flock of geese), he becomes hard to control due to his strength.
A particularly bad experience in the Chicago World's Fair makes things even harder for Buddy.
After he goes on an aggressive rampage and nearly destroys Trudy's home, Buddy is taken to an ape sanctuary to live among his own kind in peace.
Rene Russo - Gertrude "Trudy" Lintz
Robbie Coltrane - Dr. Bill Lintz
Alan Cumming - Dick Croner
Paul Reubens - Professor Spatz
Irma P. Hall - Emma (Trudy's maid)
Production
Edit
Rene Russo began rehearsals with the chimpanzees a month before principal photography even started.
The gorilla suit used for Buddy was created by Jim Henson's Creature Shop.
Reception
Edit
Box Office
Edit
"Buddy" debuted at #4 at the box office. During its opening weekend, it grossed $3,504,671.
Critical Reception
Edit
"Buddy" received negative reviews from critics, as it holds a 25% rating on Rotten Tomatoes based on 20 reviews.
The film was criticized for its unrealistic animatronics, especially when compared to the real ape performers.
In spite of the film's message, animal activists still objected over the depiction of chimpanzees as docile pets, happily carrying on wearing human clothes. Among their concerns, the perpetuation of the idea of chimps as acceptable pets is often cited.
Theatrical Trailer
Edit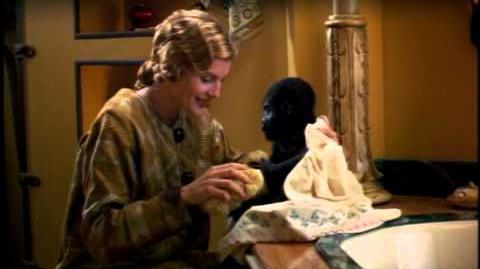 Community content is available under
CC-BY-SA
unless otherwise noted.