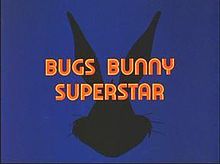 Bugs Bunny: Superstar is a 1975 Looney Tunes documentary film, narrated by Orson Welles and produced and directed by Larry Jackson.
The film includes nine Looney Tunes/Merrie Melodies cartoons which were previously released from 1940 until 1948 (thus, this can also be considered an anthology film):
What's Cookin' Doc? (1944)
The Wild Hare (a.k.a. A Wild Hare) (1940)
A Corny Concerto (1943)
I Taw a Putty Tat (1948)
Rhapsody Rabbit (1946)
Walky Talky Hawky (1946)
My Favorite Duck (1942)
Hair-Raising Hare (1946)
The Old Grey Hare (1944)
It also includes interviews with some legendary Warner Bros. animation directors of that period: Friz Freleng, Tex Avery and especially Bob Clampett, who has the most screen time. Some contemporary critics pointed out that Clampett's important role, as one of the primary developers of the early Warner cartoons, was slanted to some degree, due to his prominent presence in this film. The documentary infuriated many of the Warner Bros. artists as Clampett liberally took credit for much of the Warner creations. For this reason, Chuck Jones (who angrily had a strong dislike for Clampett) left out Clampett's name in the 1979 compilation film The Bugs Bunny/Road Runner Movie when Bugs discusses about his fathers (where Chuck and other Warners directors were being listed) and his 1989 autobiography Chuck Amuck.
Bugs Bunny: Superstar was the first of a series of Warner cartoon compilation movies released in the 1970s and 1980s. However, as a documentary, it does not fit the mould of the totally-animated Warner Bros. compilation movies that began with 1979's The Bugs Bunny/Road Runner Movie. This film was not included because it was not produced by Warner Bros. (it was produced by Hare-Raising Films and released by MGM through its United Artists devision) and the cartoons were controlled by United Artists at that time as part of the Associated Artists Productions library of pre-1950 Warner Bros. films.
Directed by: Larry Jackson
Produced by: Larry Jackson
Narrated by: Orson Welles
Starring: Bob Clampett,Tex Avery, and Friz Freleng
Music by: Ian Whitcomb
Cinematography: Gary Graver
Editing by: Brain King
Distributed by: Hair-Raising Films
Release date(s): December 19, 1975 (premiere)
Running time: 90 min.
Country: United States
Language: English
Community content is available under
CC-BY-SA
unless otherwise noted.