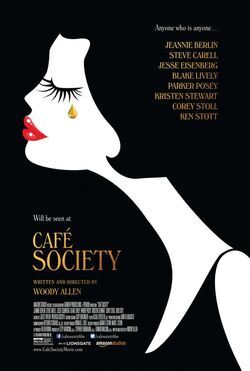 Anyone who is anyone will be seen at Café Society.
Produced By
Letty Aronson
Stephen Tenenbaum
Edward Walson
Edited By
Alisa Lepselter
Cinematography
Vittorio Storaro
Studio
Amazon Studios
Gravier Productions
Perdido Productions
Release Date
May 11, 2016 (Cannes)
June 15, 2016 (United States)
Rating

Café Society is a 2016 American romantic comedy-drama film written and directed by Woody Allen. The film stars Jeannie Berlin, Steve Carell, Jesse Eisenberg, Blake Lively, Parker Posey, Kristen Stewart, Corey Stoll and Ken Stott. It premiered at the Cannes Film Festival on May 11, 2016, and was released in the United States on July 15, 2016.
A young man arrives in Hollywood during the 1930s hoping to work in the film industry. There, he falls in love, and finds himself swept up in the vibrant café society that defined the spirit of the age.
Production
Edit
By March 9, 2015, Jesse Eisenberg, Bruce Willis and Kristen Stewart were added to the cast of an upcoming Woody Allen film, which would be produced by Letty Aronson, Stephen Tenenbaum, and Edward Walson. By May 6, 2015, Blake Lively was cast, followed by Parker Posey by mid-July. By August 4, 2015, more cast was added, including Jeannie Berlin, Corey Stoll, and Ken Stott, along with Anna Camp, Stephen Kunken, Sari Lennick, and Paul Schneider. In August, Tony Sirico was cast to play Vito, and Max Adler joined the cast. Vittorio Storaro is the cinematographer. On August 24, 2015, it was reported that Willis had exited the film due to his scheduling conflicts with the Broadway stage adaptation of the Stephen King novel Misery. On August 28, 2015, Steve Carell joined the cast of the film to replace Willis. In March 2016, the title was confirmed to be Café Society.
Principal photography on the film began on August 17, 2015 in and around Los Angeles. On September 8, 2015, filming moved to New York City, where it was shot in Brooklyn. Woody Allen has moved to digital for the first time, using a Sony CineAlta F65 camera for his 47th film.
Community content is available under
CC-BY-SA
unless otherwise noted.