Wiki Targeted (Entertainment)
Play Sound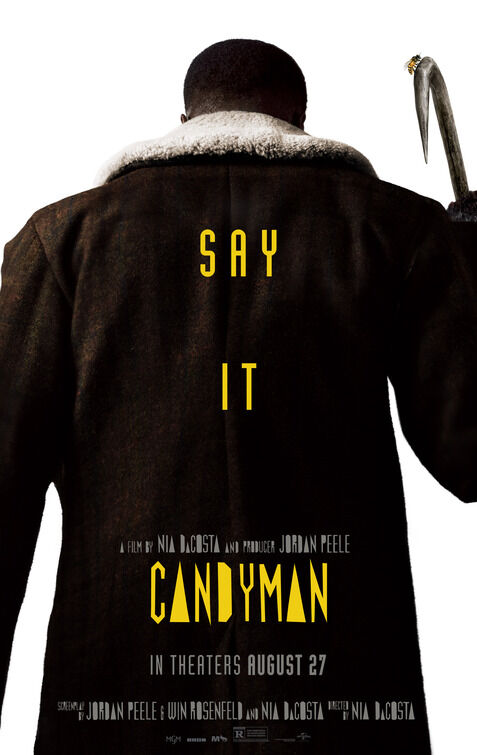 Say It (formely Dare to Say His Name)
Screenplay By
Jordan Peele
Win Rosenfeld
Nia DaCosta
Based on
Candyman
by Bernard Rose
The Forbidden
by Clive Barker
Cinematography
John Guleserian
Music By
Robert A. A. Lowe
Release Date
August 27, 2021 (United States)
Candyman is a 2021 battle horror action film directed by Nia DaCosta and written by Jordan Peele, Win Rosenfeld and DaCosta. It is a remake version to the 1992 film of the same name and the fourth film in the Candyman franchise, based on the short story, "The Forbidden" by Clive Barker. The cast of the film consists of Yahya Abdul-Mateen II, Teyonah Parris, Nathan Stewart-Jarrett and Colman Domingo, along with Tony Todd and Vanessa Estelle Williams reprising their roles from the original film.
Plans for the Candyman (1992) prequel, another film confirms of the perfecto entertainment including "Candyman and Helen's Love" with also a favourable first crossover film between with Leprechaun named "Candyman VS Leprechaun", which was also a development as well. 1 years later, a 2 Candyman prequel was now become a cancelled development and Development hell. In 2018 after Anniversary of 1992 film, Peele and DaCosta will follow a new organizer to sign on as producer for a new film using his company, Monkeypaw Productions and later, in November that same year, it was confirmed that Peele would produce the film with Universal Pictures and Metro-Goldwyn-Mayer and will partner with Rosenfeld to co-produce the film while DaCosta signed on as director. The filming began in August 2019 and wrapped in September 2019 in Chicago, Illinois. In respond of COVID-19, Cinema of Philipinnes was getting closed by Rise of the Delta Variant of COVID-19 pandemic section.
The film is set to be released on August 27, 2021, by Universal Pictures as well as the opening scene where about story of Candyman. The film received generally positive who serves to be praises DaCosta's director, Abdul-Mateen II's performances, and Peele's producer as well as the blend of social commentary with horror.
Plot
In 2019, twenty-seven years after the events of the first film, visual artist Anthony McCoy lives in Chicago with his girlfriend, art gallery director Brianna Cartwright. Brianna's brother Troy shares the urban legend of Helen Lyle, a graduate student who went on a killing spree in the early 1990s. Her rampage culminated in a bonfire outside the Cabrini-Green housing project when she attempted to sacrifice a baby. The residents were able to rescue the child before Helen perished in the fire in an apparent act of self-immolation.
Desperate for a creative spark to turn his career around, Anthony roams around Cabrini-Green for inspiration. He eventually meets William Burke, a laundromat owner who introduces him to the story of the Candyman. When Burke was a child in 1971, he had a frightening encounter with Sherman Fields, a hook-handed man whom the police believed was responsible for putting a razor blade in a piece of candy that ended up in the hands of a white girl. Burke inadvertently alerted the police to Sherman's presence inside the walls of one of the tower blocks, leading them to beat Sherman to death. When children continued to receive candy with razor blades inside, Sherman was exonerated and the legend implies that if somebody says "Candyman" five times to a mirror, Sherman's spirit will appear and kill the summoner.
Inspired, Anthony develops an art exhibit based on the Candyman's legend and showcases it at Brianna's art gallery. He is dismayed when it does not get a positive reaction from audiences. That night, one of Brianna's co-workers and his girlfriend are slaughtered by the Candyman after saying his name five times in front of a piece of Anthony's exhibit consisting of a mirror. The legend spreads and more people are killed after repeating the Candyman's name including an art critic and a group of teenage girls bullying an African-American in a bathroom.
Anthony begins to undergo a physical transformation, stemming from a bee sting he received on his hand which develops into a huge scab that starts spreading across his entire body. He goes to a hospital where he learns that his mother Anne-Marie lied about where he was born and when he confronts her, she reluctantly reveals that he was the baby Helen rescued from the fire the night she died. Though Helen saved him from Daniel Robitaille, the first Candyman, who abducted him and planned to sacrifice him in the fire, Anne-Marie never told him about it because she wanted Anthony to have a normal life. The community had vowed never to repeat the Candyman's legend after that night and she fears what will happen now that someone has broken the pact. Anthony leaves, resigned to his fate, and wanders through the Cabrini-Green row houses.
Worried about Anthony, Brianna realizes that Burke first told him about the Candyman and goes to Cabrini-Green to find them. At the laundromat, she is attacked and subdued by Burke who takes her to an abandoned church where Anthony, his body continuing to deteriorate, is waiting. Anthony enters into a fugue state and tries to save her as Burke reveals that he not only witnessed Sherman's death, he also saw Sherman's spirit returning as the Candyman and witnessed him murdering his older sister and her friend who summoned him. Burke plans to have the police gun Anthony down to create a new legend with the Candyman as an instrument of vengeance rather than a symbol of Black pain and suffering. To complete Anthony's transformation into the Candyman, Burke saws off his right hand and replaces it with a hook.
Brianna manages to escape the church and is chased through Cabrini-Green by Burke, whom she viciously stabs to death. Anthony appears and collapses into her arms as the police, lured to the scene by Burke, show up and shoot Anthony dead. Brianna is arrested and handcuffed. An officer attempts to intimidate her into agreeing that Anthony provoked the police into shooting him, but Brianna uses the police car's rear-view mirror to summon the Candyman. He appears, now in Anthony's guise, and massacres the police. As more police arrive at the scene, Anthony takes on the appearance of Robitaille and instructs Brianna to "tell everyone".
The ends credits feature a shadow puppet show telling the origins of the various incarnations of Candyman.
Cast
Yahya Abdul-Mateen II as Anthony McCoy

Teyonah Parris

as Brianna Cartwright

Nathan Stewart-Jarrett

as Troy Cartwright
Colman Domingo as William Burke
Tony Todd as Daniel Robitaille / Candyman
Michael Hargrove as Sherman Fields
Vanessa Estelle Williams as Anne-Marie McCoy
Rebecca Spence as Finley Stephens
Cassie Kramer as Helen Lyle
Kyle Kaminsky as Grady Smith
Christiana Clark as Danielle Harrington
Brian King as Clive Privler
Torrey Hanson as Jack Hyde
Carl Clemons-Hopkins as Jameson
Cedric Mays as Gil Cartwright
Nancy Pender as TV News Anchor
Pam Jones as Devlin Sharpe
Breanna Lind as Annika
Production
In response to the success of Freddy vs. Jason, a crossover film with Leprechaun, titled "Candyman vs. Leprechaun", entered development. Tony Todd rejected the idea after being presented the script, saying "I will never be involved in something like that." In 2004, Todd confirmed to Fangoria that a fourth film was moving forward with Clive Barker's involvement and a $25 million budget. By 2009, Deon Taylor was attached to direct the film, which would have been set in New England during the winter at an all-women's college, and would ignore the events of Candyman: Day of the Dead. The film eventually fell apart due to disputes amongst the rights owners.
In September 2018, it was announced that Jordan Peele was in talks to produce a sequel of the 1992 film through Monkeypaw Productions. In a 2018 interview with Nightmare on Film Street, Todd stated, "I'd rather have him do it, someone with intelligence, who's going to be thoughtful and dig into the whole racial makeup of who the Candyman is and why he existed in the first place." In November 2018, it was confirmed that Peele would produce the film with Universal and MGM and will partner with Win Rosenfeld to co-produce the film while Nia DaCosta signed on as director. The film will serve as a "spiritual sequel", taking place back in the new gentrified Cabrini Green where the old housing projects development once stood in Chicago. The filming was due to commence in spring 2019.
In January 2019, it was reported that Lakeith Stanfield of FX's Atlanta and Sorry to Bother You fame would possibly star in the film, but not as the main titular character rather as an older version of Anthony McCoy who was a visual artist who takes on an interest seeking the legend of the Candyman that was similar to Helen Lyle's character played by Virginia Madsen. At the time, there was no word as to who would be starring in the film and if Todd or any past cast would reprise their roles. However, in an interview with Entertainment Weekly, Todd spoke of Peele, stating: "I know that he's a fan. I'm hoping that I will appear in the film in some form of fashion. Wouldn't that make sense? But, it's Hollywood so I won't take it personally if it doesn't work out." He added, "If this new one is successful, it will shed light back on the original. I think that the subject matter is more important than any individuals and I mean that."
In February 2019, Yahya Abdul-Mateen II was in talks to play McCoy, misreported as being in talks to portray the titular character. In response to the news, Todd offered his blessings over Twitter, stating: "Cheers to the Candyman, a wonderful character that I lived with for 25 years. He's brought grace and glory and a beautiful boatload of friends & family. I'm honored that the spirit of Daniel Robitaille & Cabrini Green rises again. Truth to power! Blessings to the cast & crew". However, it was ultimately announced that Todd would reprise his role. If Beale Street Could Talk actress Teyonah Parris was casted opposite in playing Abdul-Mateen II's character Anthony's girlfriend.
Principal photography began in early August 2019 and wrapped up in September 2019 in the Chicago area with some filming taking place in the North Park neighborhood during the month of September. The working title of the film was revealed on some of the cast and crew social media pages as Say My Name which was discreetly used in the revised scripts and production sets to keep things "flying under the radar". Some filming took place in the North Park neighborhood during the month of September. Director DaCosta said the Near North Side's Marina City apartment buildings/condos were her favorite filming location in the city. Several scenes were filmed in the last standing remains of Cabrini–Green Homes' fenced-off row houses from 1942. Candyman is the first feature film to shoot on location inside the Museum of Contemporary Art, Chicago. Like the originally-planned 2004 film, the project had a $25 million production budget.
The film features puppetry animation sequences which were created by Manual Cinema. DaCosta said she and Jordan Peele chose shadow puppets after speaking "early on about how much we would hate to do a traditional flashback scene (laughs) or to use footage from the original film, 'cause we wanted this to stand on its own. He mentioned shadow puppetry, and then in Chicago we developed [something] with this amazing theatre production company and from there it became less about flashbacks and more about how we depict these stories, these legends."
On March 3, 2020, Robert A. A. Lowe was announced as the composer for the film.
Release
Candyman was originally scheduled to be released on June 12, 2020, by Universal Pictures, but due to the COVID-19 pandemic, it was pushed to September 25, 2020, and then again to October 16, 2020, taking the previous release date of Halloween Kills. The film was then delayed to August 27, 2021.
The first trailer for the film was released on February 27, 2020. An independent shadow puppetry short film/trailer presented by Nia DaCosta with creative visual work by Manual Cinema was released on June 17, 2020. On June 23, 2021, a second trailer for the film was released.
Reception
Box office
In the United States and Canada, Candyman is projected to gross around $15 million from 3,400 theaters in its opening weekend.
Critical response
According to review aggregator Rotten Tomatoes, 86% of 123 critics have given the film a positive review with an average rating of 7.4/10. The website's critics consensus reads: "Candyman takes an incisive, visually thrilling approach to deepening the franchise's mythology -- and terrifying audiences along the way." On Metacritic, another aggregator, the film has a weighted average score of 73 out of 100 based on 39 critics, indicating "generally favorable reviews".
David Rooney of The Hollywood Reporter wrote: "Director Nia DaCosta, working from a script she wrote with Jordan Peele and Win Rosenfeld, uses Bernard Rose's 1992 film as a jumping-off point for bone-chilling horror that expands provocatively on the urban legend of the first film within the context of Black folklore and history, as well as the distorting white narrative that turns Black victims into monsters." Reviewing the film for TheWrap, Elizabeth Weitzman said: "DaCosta, Peele, and Rosenfeld are playing with us — the victim is rendered less sympathetically than Candyman — as much as they are with notions of history, culture, art and appropriation. They bring in actors from the first film (including Tony Todd and Vanessa Estelle Williams) but not always in ways we expect. They build on canon while simultaneously dismantling it."
Videos
Trailers