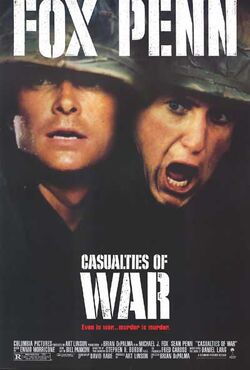 "Even in war... murder is murder"
Release Date
August 18, 1989
Rating
Casualties of War is based on the true story about a war crime committed during the Vietnam War. The film was directed by Brian De Palma. Michael J. Fox and Sean Penn star in this film, it was also John C. Reilly's first film.
Spoiler warning: The following contains plot details about
the entire movie.
The story is set during the Vietnam War, 1966. A platoon of U.S soldiers are patrolling in the Vietnam jungle when they are hit with mortar fire. When the platoon investigate a local Vietnamese village to find out where the mortars are, they are ambushed by Viet Cong fighters leaving SGT. Brown killed (Erik King). Then, 5 men in that platoon, led by SGT. Meserve (Sean Penn) are sent on a long range recon, while on their mission 4 men decide to kidnap a girl in a local Vietnamese village to rape while on their mission.
Community content is available under
CC-BY-SA
unless otherwise noted.