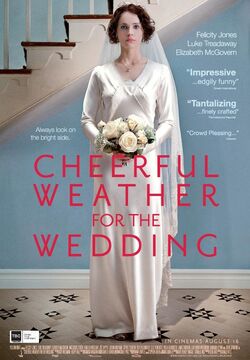 Always look on the bright side.
Written By
Donald Rice, Mary Henely-Magill
Cast
Felicity Jones, Elizabeth McGovern, Mackenzie Crook, Luke Treadaway
Studio
Cheerful Weather, Goldcrest Pictures, Yellow Knife
Release Date
December 7, 2012
Rating


Cheerful Weather for the Wedding is a 2012 comedy drama film directed by Donald Rice and adapted from the 1932 novel of the same name by Julia Strachey of the Bloomsbury Group. Production began in November 2010 and the film premiered at the 2012 Tribeca Film Festival.
England, 1932. Today is the wedding day of Dolly Thatcham, and her family is arriving at the manor house with all the cheerfulness, chaos and grievances that bubble to the surface at such gatherings. Trouble soon appears in the shape of Joseph, Dolly's lover from the previous summer, who throws her feelings into turmoil. Dolly's mother will not allow her carefully laid plans for her daughter's future to be threatened, and as the clock ticks, the bride can't decide whether to run away with Joseph or start a new life in Argentina with her husband-to-be.
Related Links
Edit
Community content is available under
CC-BY-SA
unless otherwise noted.