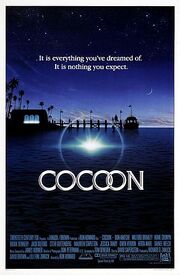 Cocoon is a 1985 science fiction film directed by Ron Howard about a group of elderly people rejuvenated by aliens. The movie stars Don Ameche, Wilford Brimley, Hume Cronyn, Brian Dennehy, Jack Gilford, Steve Guttenberg, Maureen Stapleton, Jessica Tandy, Gwen Verdon, Herta Ware, Tahnee Welch, and Linda Harrison. The film is loosely based on the novel by David Saperstein.
The movie was filmed in and around St. Petersburg, Florida: locations included the St Petersburg Shuffleboard Club, Sunny Shores Rest Home, The Coliseum, and Snell Arcade buildings. The film earned two Academy Awards for Best Supporting Actor (Don Ameche) and for Best Visual Effects.
It spawned one sequel, Cocoon: The Return, in which almost all of the original cast reprised their roles.
About 10,000 years ago, peaceful aliens from the planet Antarea set up an outpost on the planet Earth, on an island later known to mankind as Atlantis. When Atlantis is destroyed, twenty aliens must be left behind. Antareans who return to pick them up disguise themselves as humans, rent a house with a swimming pool, and charge the water with "life force" to give the cocooned Antareans energy to survive the trip home. They charter a boat from a local captain named Jack (Steve Guttenberg) who helps them retrieve the cocoons.
Ben (Wilford Brimley), Arthur (Don Ameche) and Joe (Hume Cronyn), three local retirement home residents, swim in the pool and absorb some of the life force, making them feel younger and stronger. Eventually caught in the act, they are given permission to use the pool by the Antarean leader, Walter (Brian Dennehy). Their friend Bernie (Jack Gilford) obstinately refuses to use the healing power of the pool, and at the retirement home carelessly reveals the secret of the pool's rejuvenating powers. Joe also carelessly reveals it more by showing his capability in being able to knock out two retirement home managers trying to pull him away in his attempts to beat up Bernie over a personal insult he gives him about how his marriage is in jeopardy due to the consequences. In response to the fully revealed secret then, all the other elderly residents storm out of the retirement home heading towards and barge into the pool. Infuriated, Walter ejects them, but too many have been in the pool at once and drained its life force.
Walter explains that the cocoons cannot now survive the trip back to Antarea but will be able to survive on Earth. With the help of Jack, Ben, Arthur and Joe, the Antareans return the cocoons to the sea. The Antareans offer space aboard their ship to the old people. Bernie chooses to remain on Earth, but most of the others accept the invitation to travel to a world where they will never be ill, never age, and never die.
Community content is available under
CC-BY-SA
unless otherwise noted.