Name
Cole Mitchell Sprouse
Birthplace
Arezzo, Tuscany, Italy
Birth date
August 4, 1992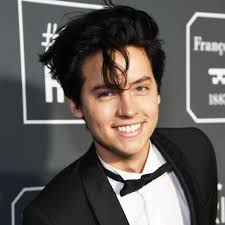 Cole Mitchell Sprouse
 (born August 4, 1992) is an American actor.He is very talented , gorgeouse, wonderful, gifted actor. He is not only a great actor but he is also a photographer. A very good photographer. Cole is in many films like Riverdale , Five Feet Apart, Big Daddy, Friends, ect. He is currently in 2019 dateing  Lili Reinhart his co star in he Tv show Riverdale who he plays Jughead Jones.
The popular netflix show named Riverdale stars Cole Sprouse as Jughead Jones. Riverdale is based on the old Archie comic books.Five Feet apart is a beautiful romance starring Cole sprouse as Cystic Fibrosis patient Will Newman. It is a wonderful but sad movie.The Suite life on deck is a continuation of The Suite life of Zac and Cody starring Cole Sprouse and his Twin brother Dylan sprouse. Cole plays Cody in teh two shows. Cole sprouse is also a star in friends the Tv show as the son of Ross. His name is Ben. Ben was the first role Cole had without his twin brother by his side.
As you should know he is super gorgeouse. Unless you want to be blinded with his pure beauty maybe dont look at him. Just a tip.
Is someone feels afraid to tell you honest critisim your never going to improve
I am a sucker for that childhood romance narrative
My closest friends are the ones who tell me that i am being dumb or that i'm being wrong
 I've  become obsessed with trying to figure out who i am aginst situations that make me unconfortable and not settled ensuring that that fear of stagnation dose not allow me to flip that bubble of privilage.
He has a Twin brother named Dylan sprouse
He studied arcialagie
He is dating lili reinhart
Is twenty six years old
Is very smart
Cares alot about everyone
External links
Edit
Community content is available under
CC-BY-SA
unless otherwise noted.