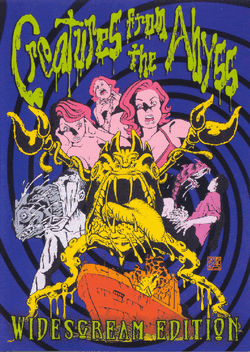 Sit right back and hear a tale, A tale of a frightful ship
Directed By
Massimiliano Cerchi
Produced By
Massimiliano Cerchi, Joseph Holden
Written By
Richard Baumann
Screenplay By
Richard Baumann
Cast
Clay Rogers, Michael Bon, Sharon Twomey, Laura di Palma, Ann Wolf
Cinematography
David Williams
Studio
Production Film 82
Distributed By
Production Film 82, Shriek Show
Release Date
8 January 2000 (Japan)
Filming Location
Miami, Florida, USA
Rating

Creatures From The Abyss (also known as Plankton) is a 1994 Italian direct-to-video science fiction horror film directed by Massimiliano Cerchi and starring Clay Rogers, Michael Bon, Sharon Twomey, Laura di Palma, Ann Wolf and Deran Sarafian.
Five teenagers embark on a boating trip off the coast of Florida. The teens get hopelessly lost at sea after they get caught in a fierce storm. Fortunately, the quintet stumble across an abandoned yacht in the middle of the ocean with a mysterious biology lab on board it. Unfortunately, there are also ferocious mutated fish running amok on the yacht. 
Clay Rogers as Mike
Michael Bon as Bobby
Sharon Twomey as Margareth
Laura di Palma as Dorothy
Ann Wolf as Julie
Deran Sarafian as Dr. Clark Davidson
Creatures From The Abyss has been met with negative reviews. On the review website Rotten Tomatoes it has had few but mostly negative reviews.
Creatures From The Abyss was released on DVD on September 13, 2005 by Shriek Show in widescreen format with no special features. Shriek Show released it again on July 31, 2007 as a part its Mutant Monsters Triple Feature which combined it with The Dark and The Being.
Community content is available under
CC-BY-SA
unless otherwise noted.