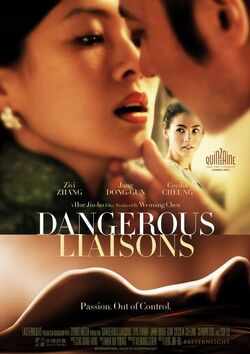 Passion out of control
Produced By
Wei Ming Chen
Cast
Jang Dong-kun, Ziyi Zhang, Cecilia Cheung, Shawn Dou, Lisa Lu
Studio
Easternlight Films
Release Date
November 9, 2012
Rating


Dangerous Liaisons is a 2012 Chinese film by Hur Jin-ho based on the novel with the same title by Pierre Choderlos de Laclos. It has been adapted five times to date. The film screened in the Directors' Fortnight section at the 2012 Cannes Film Festival, the 2012 Toronto International Film Festival, and the Busan International Film Festival.
Download Link
Edit
1930s Shanghai: the glamorous, tumultuous "Paris of the East" whose salons, streets and bedrooms frame this Chinese adaptation of the French novel Les Liaisons Dangereuses - into a lush new vision of "Dangerous Liaisons."
Aging socialite Mo Jieyu still finds herself circling ex-boyfriend Xie Yifan. Even after years of separation, their attraction - and appetites - burn just beneath the surface. Mo, the rich and charming widow with a taste for indulgence and sensuous pleasures, still has eyes for famous womanizer Xie, who secretly burns with love for her.
And yet, in his luxurious life, Xie's new interest lies in chaste humanitarian Du Fenyu, who has captured his attention and earned his desire for conquest. Mo lures Xie into a treacherous, dangerous game of hearts: win, bed, and leave Du, proving his mettle as a rogue and impossible catch. But can Xie take the honor of such a woman, without losing his own heart, as well? As war looms in Shanghai, can Xie win Mo's seductive game? Can he choose between these two women? Where will such a triangle lead them all? In matters of the heart, and in this city, there may be no difference between love and war.
Related Links
Edit
Community content is available under
CC-BY-SA
unless otherwise noted.