Cobra Kai Season 4 - The Loop
Play Sound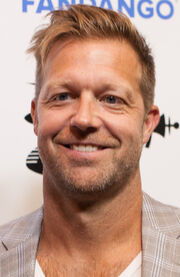 David Leitch is an American filmmaker, stunt coordinator, second unit director, stuntman, actor and producer. He made his directorial debut on the 2014 action film John Wick with Chad Stahelski, though only Stahelski was credited. Leitch then directed the 2017 thriller film Atomic Blonde, starring Charlize Theron, and 2018's Deadpool 2, the sequel to the 2016 film. He is currently directing Fast & Furious Presents: Hobbs & Shaw, a spin-off from The Fast and the Furious franchise.
Career
He was a stunt double for Brad Pitt five times and two times for Jean-Claude Van Damme. Leitch and his crew won two awards for The Bourne Ultimatum at the Screen Actors Guild Awards. He also shared a 2008 Taurus World Stunt Award with fellow stunt-person Kai Martin for high work.
He wrote and starred in Confessions of an Action Star, a parody of action films and the action film industry released in 2009.
Leitch and Chad Stahelski opened an action design production company called 87Eleven in 1997. Then both directing John Wick (2014)
He has moved on to direct movies such as Atomic Blonde and Deadpool 2 with his wife and creative partner, Kelly McCormick. Currently working on the Fast & Furious spin-off Hobbs & Shaw
Film
Second-unit director
Acting credits
Year
Title
Role
Note
2002

Nine Lives

Paul
2003

In Hell

Paul
2005

Confessions of an Action Star

Frank Sledge
2007
Fetch
John "Fetch" Fetcher
Short film
2010

The King of Fighters

Terry Bogard

2011

The Mechanic

Sebastian
2012
The Bourne Legacy
The Driver
2018
Deadpool 2
Cain Marko / Juggernaut
Provided motion-capture performance on-set, while Ryan Reynolds
provided facial motion-capture and voice performances
Stuntwork credits
Television
Stunts
Year
Title
Notes
1995
Sherman Oaks
Season 1
1996
7th Heaven
Season 1
1997-2001
Buffy the Vampire Slayer]]
Season 1 - Episodes "The Harvest", "Teacher's Pet", "Angel" and "The Puppet Show";
Season 2 - Episodes "Some Assembly Required", "Reptile Boy", "The Dark Age", "Phases" and "Killed by Death";
Season 3 - Episodes "Faith, Hope & Trick", "Homecoming", "Revelations", "The Wish", "Helpless" and "Doppelgangland";
Season 5 - Episodes "No Place Like Home", "Listening to Fear", "Checkpoint" and "Intervention"
1998
CHiPs '99
TV movie
1999
The Practice
Season 4 - Episode "Day in Court"
The Strip
Season 1
2000

The President's Man

TV movie
2001

The Pretender 2001

TV movie
Scrubs
Season 1
2006
2006 MTV Movie Awards
TV Special;
Stunt double
General Hospital
Season 1 - "Episode #1.10967"
Acting Credits
| Year | Title | Role | Notes |
| --- | --- | --- | --- |
| 1998 | Martial Law | David Hasbro | Season 1 - Episodes "Diamond Fever", "Dead Ringers", "Funny Money" and "Trackdown" |
| 2000 | Power Rangers Lightspeed Rescue | Brian | Season 1 - Episode "Up to the Challenge" |
| 2001 | Walker Texas Ranger | Floyd Jessop | Season 9 - Episode "Medieval Crimes" |
| 2003 | L.A. County 187 | Earnest Cop | TV movie |
| 2004 | Charmed | Innocent | Season 7 - Episode "There's Something About Leo" |
Video games
Year
Title
Credited as
Notes
1999
007: Tomorrow Never Dies
Stunts
Sony PlayStation release
Developed by Black Ops Entertainment
Co-published by Electronic Arts and MGM Interactive
2000
HBO Boxing
Stunt coordinator
Sony PlayStation release
Developed by Acclaim Sports and Osiris Studios
Published by Acclaim Entertainment
External links