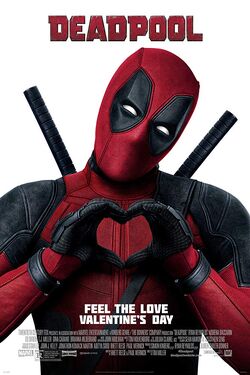 Witness the beginning of a happy ending
Produced By
Lauren Shuler Donner
Simon Kinberg
Ryan Reynolds
Written By
Rhett Reese
Paul Wernick
Based on
Deadpool
by Fabian Nicieza
Rob Liefeld
Studio
20th Century Fox
Marvel Entertainment
Kingberg Genre
The Donners' Company
TSG Entertainment
Distributed By
20th Century Fox
Release Date
February 12, 2016
Rating
Deadpool is a 2016 American superhero film based on the Marvel Comics character Deadpool. Directed by Tim Miller, with a screenplay by Rhett Reese and Paul Wernick, the film stars Ryan Reynolds, Morena Baccarin, Ed Skrein, Gina Carano, and T.J. Miller. Deadpool is technically the eighth installment in the X-Men film series after X-Men: Days of Future Past. The film was released in North America on February 12, 2016.
Wade Wilson (Ryan Reynolds) is a former Special Forces operative who now works as a mercenary. His world comes crashing down when evil scientist Ajax (Ed Skrein) tortures, disfigures and transforms him into Deadpool. The rogue experiment leaves Deadpool with accelerated healing powers and a twisted sense of humor. With help from mutant allies Colossus and Negasonic Teenage Warhead (Brianna Hildebrand), Deadpool uses his new skills to hunt down the man who nearly destroyed his life.
Although Ryan Reynolds portrayed Wade Wilson in the 2009 film X-Men Origins: Wolverine, this film aims to depart from that vision of Deadpool, in favor of a more true-to-comics version.
Deadpool wear the costume similar to the one featured in Marvel Comics.
Promotion, Filming, and Concept art
Edit
Test Footage
Edit
References
Edit
Community content is available under
CC-BY-SA
unless otherwise noted.