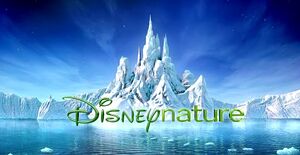 Disneynature is a production banner of The Walt Disney Company that produces major big screen nature documentaries. The inception of the company was precipitated by the success of National Geographic's documentary March of the Penguins. With the release of Earth, this could've been a joint venture between BBC & Walt Disney Pictures.
In the great tradition established by Walt Disney himself, Disneynature will offer spectacular entertainment about the world in which we live. The significance of the new banner goes beyond the studio, with The Walt Disney Company embracing 
this new initiative around the world through a number of its businesses, including publications, licensing, parks and educational outreach. Disney veteran Jean-Francois Camilleri, who has served as senior vice president and general manager for Walt Disney Studios Motion Pictures France, will head the new unit. Disneynature will be based in France, where Camilleri and his team will oversee the initiation, development and acquisition of high quality feature projects.
Among the first films to be released domestically under the new label was Earth, from award-winning British producer/director Alastair Fothergill, whose credits include the landmark Planet Earth series for the BBC and The Discovery Channel and The Blue Planet.
Earth
Oceans
The Crimson Wing: Mystery of the Flamingos
Wings of Life
Bears
Growing Up Wild
L'Empereur
Born in China
Ghost of the Mountains
Expedition China
Dolphin Reef
Penguins
Elephant
Community content is available under
CC-BY-SA
unless otherwise noted.