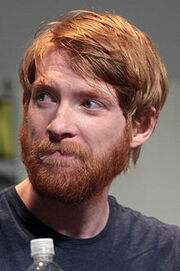 Domhnall Gleeson (born 12 May 1983) is an Irish actor, director, and writer. He has acted on both stage and screen, earning a Tony Award nomination in 2006 for his part in the Broadway production The Lieutenant of Inishmore. He has performed in several shows at Dublin's Gate Theatre, including adaptations of American Buffalo and Great Expectations.
Gleeson's work on-screen includes appearances in the television series The Last Furlong (2006), the comedy sketch show Your Bad Self (2010) and the films Six Shooter (2004), Boy Eats Girl (2005) and Studs (2006). He is mostly known for portraying Bill Weasley in Harry Potter and the Deathly Hallows – Part 1 (2010) and Part 2 (2011), in which he starred alongside his father Brendan Gleeson. His other notable films include Never Let Me Go (2010), True Grit (2010), Anna Karenina (2012), Dredd (2012), About Time (2013), Frank (2014), Calvary (2014), Unbroken (2014), Ex-Machina (2015) and Brooklyn (2015).
He is set to play General Hux in J. J. Abrams' upcoming Star Wars: The Force Awakens, which is due for release in December 2015 and he is set to co-star in Alejandro G. Iñárritu's The Revenant (2015).
Community content is available under
CC-BY-SA
unless otherwise noted.