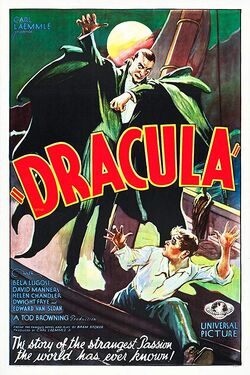 The story of the strangest passion the world has ever known!
Produced By
Tod Browing, Carl Laemmle, Jr.
Written By
Garret Fort, Dudley Murphy, Louis Bromfield, Tod Browning, Max Cohen and Louis Stevens. Based on the play by Hamilton Deane and the novel by
Bram Stoker
.
Cast
Bela Lugosi, Helen Chandler, David Manners, Edward Van Sloan
Release Date
February 12, 1931 (New York premiere)
Filming Location
Universal Studios and on location in California
Runtime
1 hour 15 minutes
Rating

(not rated on its initial release in the United states)
Budget
$355,000 (estimated)
Dracula is a 1931 American horror film, directed by Tod Browning and starring the Hungarian-born actor Bela Lugosi as Count Dracula. It is based on a stage play by Hamilton Deane and John L. Baldeston, which was in turn based on the novel Dracula by the Irish author Bram Stoker.
In the film, the ancient vampire Count Dracula arrives in England and begins to prey upon the virtuous young Mina.
After a harrowing ride through the Carpathian mountains in Eastern Europe, the British lawyer Renfield enters Castle Dracula to finalize the transferral of Carfax Abbey in London to Count Dracula, who is in actuality a vampire. Renfield is drugged by the eerily hypnotic count, and turned into one of his thralls, protecting him during his sea voyage to London.
After sucking the blood and turning the young Lucy Weston into a vampire, Dracula turns his attention to her friend Mina Seward, daughter of Dr. Seward who then calls in a specialist, Dr. Van Helsing, to diagnose the sudden deterioration of Mina's health.
Van Helsing, realizing that Dracula is indeed a vampire, tries to prepare Mina's fiance, John Harker, and Dr. Seward for what is to come and the measures that will have to be taken to prevent Mina from becoming one of the undead.
Bela Lugosi - Count Dracula
Helen Chandler - Mina Seward
David Manners - Jonathan Harker
Edward Van Sloan - Dr. Van Helsing
Dwigyt Frye - Renfield
Herbert Bunston - Dr. Seward
Charles K. Gerrard - Martin (guard at Dr. Seward's asylum)
Joan Standing - Maid at the Sewards' house
Community content is available under
CC-BY-SA
unless otherwise noted.