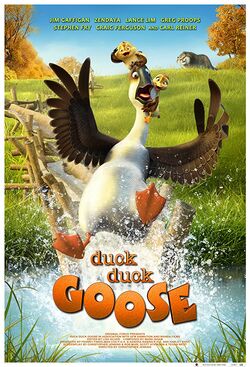 Family can be a wild ride.
Produced By
Penney Finkelman Cox
Sandra Rabins
Viola Chen
Written By
Rob Muir
Chris Jenkins
Scott Atkinson
Tegan West
Edited By
Lisa Linder-Silver
Studio
Original Force Animation
Wanda Media Co., Ltd
Jiangsu Yuandongli Computer Animation Co.,Ltd
Release Date
March 9, 2018 (China)
July 20, 2018 (United States)

Duck Duck Goose is an animated film directed by Chris Jenkins. The voice cast of the film consists of Jim Gaffigan, Zendaya, Lance Lim, Greg Proops, Natasha Leggero, Stephen Fry, Craig Ferguson, and Carl Reiner.
To be added
Voice cast
Edit
To be added
Community content is available under
CC-BY-SA
unless otherwise noted.