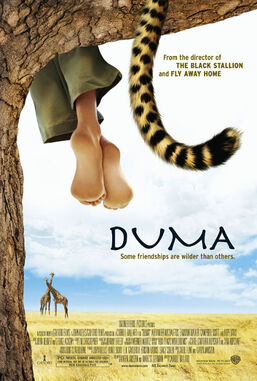 Duma is a 2005 American family drama adventure film about a young South African boy's friendship with an orphaned cheetah from a story by Carol Flint and Karen Janszen, set in the country of South Africa and based on How It Was with Dooms by Carol Cawthra Hopcraft and Xan Hopcraft. It was distributed by Warner Bros. Pictures, Gaylord Films and C.O.R.E., directed by Carroll Ballard (director of The Black Stallion and Fly Away Home), produced by Gaylord Films, Warner Bros., John Wells Productions, Pandora Pictures, Stacy Cohen, E.K. Gaylord II, Kristin Harms, Hunt Lowry and John Wells, written by Karen Janszen and Mark St. Germain, edited by T.M. Christopher, cinematographed by Werner Maritz with music by George Acogny and John Debney and starring Alexander Michaletos, Eamonn Walker, Campbell Scott and Hope Davis. The film was theatrically released on April 22, 2005 by Warner Bros. Pictures, Gaylord Films and C.O.R.E.. The film went on receiving very positive reviews from critics and it earned $994,790 on a $12 million budget. The film won the Family Feature Film at the Genesis Awards in 2006. The film was rated PG for mild adventure peril. Duma was released on DVD on May 16, 2006 by Warner Bros. Entertainment.
Community content is available under
CC-BY-SA
unless otherwise noted.