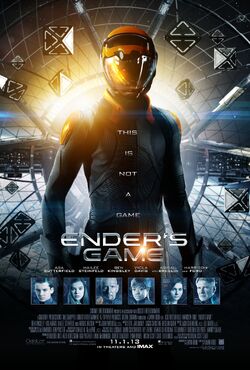 This is not a game
Produced By
Orson Scott Card
Robert Chartoff
Lynn Hendee
Alex Kurtzman
Linda McDonough
Roberto Orci
Gigi Pritzker
Ed Ulbrich
Written By
Gavin Hood (screenplay)
Orson Scott Card (book)
Cast
Asa Butterfield
Harrison Ford
Ben Kingsley
Abigail Breslin
Hailee Steinfeld
Distributed By
Summit Entertainment
Lionsgate
Release Date
November 1, 2013
Ender's Game is an American sci-fi/action film based on the like-named novel by Orson Scott Card. Directed and adapted by Gavin Hood, the film stars Asa Butterfield, Harrison Ford, Ben Kingsley, Aramis Knight, Hailee Steinfeld, Jimmy Pinchak, Viola Davis, and Abigail Breslin.
In the near future, a hostile alien race (called the Formics) have attacked Earth. If not for the legendary heroics of International Fleet Commander Mazer Rackham (Ben Kingsley), all would have been lost. In preparation for the next attack, the highly esteemed Colonel Graff (Harrison Ford) and the International Military are training only the best young children to find the future Mazer. Ender Wiggin (Asa Butterfield), a shy but strategically brilliant boy, is pulled out of his school to join the elite.
Arriving at Battle School, Ender quickly and easily masters increasingly difficult war games, distinguishing himself and winning respect amongst his peers. Ender is soon ordained by Graff as the military's next great hope, resulting in his promotion to Command School. Once there, he's trained by Mazer Rackham himself to lead his fellow soldiers into an epic battle that will determine the future of Earth and save the human race.
Asa Butterfield -as- Ender Wiggin
Harrison Ford -as- Colonel Graff
Ben Kingsley -as- Mazer Rackham
Abigail Breslin -as- Valentine Wiggin
Hailee Steinfeld -as- Petra Arkanian
Aramis Knight -as- Bean
Moises Arias -as- Bonzo
Jimmy Pinchak -as- Peter Wiggin
Suraj Parthasarathy -as- Alai
Conor Carroll -as- Bernard
Khylin Rhambo -as- Dink
Brandon Soo Hoo -as- Fly Molo
Viola Davis -as- Major Anderson
Caleb J. Thaggard -as- Stilson.
Stevie Ray Dallimore -as- John Paul Wiggin
Andrea Powell -as- Theresa Wiggin
Nonso Anozie -as- Sergeant Dap
Orson Scott Card -as- Pilot (voice cameo)
Community content is available under
CC-BY-SA
unless otherwise noted.