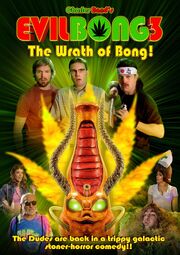 Evil Bong 3-D: The Wrath of Bong
is a horror film directed by Charles Band. This movie rated R for drug use and language throughout, some sexual content and nudity.
An evil alien bong crashes to earth from outer space. It's intent: WORLD DOMINATION!!! Our stoner heroes are sent to the alien bong planet and held captive by nude alien beauties. Their only hope to escape and save planet earth: Eebee, the original Evil Bong.
Circus-Szalewski as The Voice of The Alien Bong
Michelle Mais as The Voice of EeBee
Irwin Keyes as The Killer
Christina DeRosa as Nurse Hookah
Robin Sydney as Luann
Amy Paffrath as Velicity
Peter Stickles as Alistair
Eden Modiano as Devil Chick
Dena Kollar as Angel Chick
Sonny Carl Davis as Rabbit
John Patrick Jordan as Larnell
Mitch Eakins as Bachman
Jacob Witkin as Gramps
Brian Lloyd as Brett
Nina Estes as Graffiti Chick
Tara Spadaro as TV Chick
Followed by
Edit
Previous by
Edit
Community content is available under
CC-BY-SA
unless otherwise noted.