Wiki Targeted (Entertainment)
Play Sound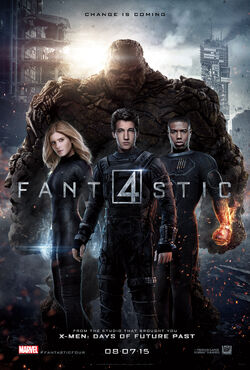 Change is coming
Produced By
Simon Kinberg
Matthew Vaughn
Gregory Goodman
Written By
Screenplay by:
Simon Kinberg
Jeremy Slater
Story by:
Jeremy Slater
Josh Trank
Edited By
Elliot Greenberg
Cinematography
Matthew Jensen
Music By
Marco Beltrami
Philip Glass
Studio
Marvel Entertainment
Distributed By
20th Century Fox
Release Date
August 4, 2015
(New York City premiere)
August 7, 2015
(North America)
Fantastic Four (stylized as Fant4stic) is a 2015 American superhero film reboot of the Fantastic Four franchise. It is directed by Josh Trank, written by Trank and Jeremy Slater, and starring Miles Teller, Kate Mara, Michael B. Jordan, Jamie Bell, and Toby Kebbell. The film is made by 20th Century Fox and Marvel Entertainment, and its theatrical release was on August 7, 2015.
A sequel was originally planned for release in 2017.
Plot
A contemporary re-imagining of Marvel's original and longest-running superhero team, FANTASTIC FOUR centers on four young outsiders who teleport to an alternate and dangerous universe, which alters their physical form in shocking ways. Their lives irrevocably upended, the team must learn to harness their daunting new abilities and work together to save Earth from a former friend turned enemy.
Cast
Videos
Images
References