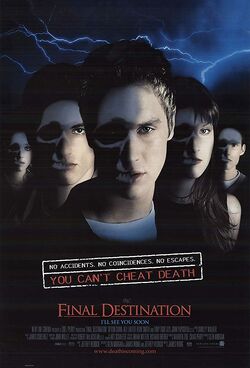 No Accidents. No Coincidences. No Escapes
Produced By
Glen Morgan
Warren Zide
Craig Perry
Screenplay By
James Wong
Glen Morgan
Jeffrey Reddick
Cinematography
Robert McLachlan
Studio
Zide/Perry Productions
Hard Eight Pictures
Release Date
March 17, 2000
Rating
Final Destination is a 2000 American horror film directed by James Wong, and is the first installment of the Final Destination film series. It stars Devon Sawa, Ali Larter, Kerr Smith, and Tony Todd. It was released on March 17, 2000. There are sequels such as Final Destination 2, Final Destination 3, The Final Destination and Final Destination 5.
Alex Browning (Devon Sawa), is embarking on a trip to Paris. Alex experiences a premonition as he sees the plane explode moments after leaving the ground. Alex insists that everyone get off the plane and 7 people including Alex, are forced to disembark. All watch as the plane actually explodes in a fireball. He and the other survivors have briefly cheated death, but will not be able to evade their fate for very long. One by one, these fugitives from fate fall victim to the grim reaper.
Box office
Edit
The film premiered on March 17, 2000, in 2,587 theaters across the United States and Canada, earning $10,015,822 on its opening weekend, with an average of $3,871 per theater. Final Destination placed at No. 3 in the United States box office on its opening weekend, behind biography film Erin Brockovich and the science fiction film Mission to Mars. The film remained at No. 3 during the second weekend, before dropping to No. 7 on its third weekend. Final Destination continuously dropped across subsequent weekends until it fell from the top-10 list on its eighth weekend. The film lasted in theaters for 22 weekends, its last screening airing in 105 theaters and grossing $52,675, placing at No. 56. Final Destination grossed $53,331,147 in the United States and Canada on its total screening, and earned $59,549,147 in other territories, earning an overall gross of $112,880,294 internationally.
Community content is available under
CC-BY-SA
unless otherwise noted.