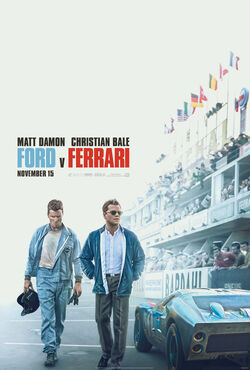 They took the American dream for a ride
Release Date
November 15, 2019 (United States)

Ford v Ferrari is a 2019 action biographical drama film directed by James Mangold. The cast of the film consists of Matt Damon, Christian Bale, Jon Bernthal, Caitriona Balfe, Tracy Letts, Josh Lucas, Noah Jupe, Remo Girone, and Ray McKinnon.
The film is scheduled to be released in the United States on November 15, 2019 by Walt Disney Studios Motion Pictures.
In 1963, Ford Motor Company Vice President Lee Iacocca proposes to Henry Ford II to purchase the cash-strapped Ferrari as a means to boost their car sales by participating in the 24 Hours of Le Mans. Enzo Ferrari, however, walks out of the deal, as Fiat offers him a more lucrative deal that allows him to retain complete ownership of Scuderia Ferrari. In rejecting the proposed deal with Ford, an insulted Ferrari returns the favor to the company and its CEO. A furious Ford orders his racing division to build a car to defeat Ferrari at Le Mans. For this task, Iacocca hires Shelby American owner Carroll Shelby, a racing driver who won Le Mans in 1959 but was forced to retire due to a heart condition. In turn, Shelby enlists the help of Ken Miles, a hot-tempered British racer and struggling mechanic.
Shelby and Miles test the Ford GT40 Mk I prototype at Los Angeles International Airport, working out all of its design flaws until it is race-ready. Seeing that Miles is not their ideal driver, Ford opts to send Phil Hill and Bruce McLaren to the 1965 24 Hours of Le Mans instead. As predicted by Miles, none of the Fords finish the race. While Ford sees this as a humiliating defeat, Shelby explains to him that the GT40 instilled fear in Enzo Ferrari, as it reached 218 mph on the Mulsanne Straight before it broke down. Shelby and Miles continue development on the GT40 Mk II, but Miles is nearly killed when the car's brakes fail during testing. In 1966, Ford Senior Vice President Leo Beebe takes over the racing division, with the intent to continue the program without Miles, but Shelby gives Ford a ride in the car and wagers his own company to convince Ford to agree that if Miles wins the 24 Hours of Daytona, he will be allowed to race at Le Mans.
Shelby American enters Daytona, but Beebe has a second Ford entered with NASCAR team Holman-Moody supporting it. While the Holman-Moody team has quicker pit stops, Shelby has Miles push his car's limit to 7,000 RPM, and he wins the race.
At the 1966 24 Hours of Le Mans, Miles struggles with a faulty door during the first lap, but after team engineer Phil Remington fixes it with a mallet, Miles begins to set lap records while catching up to the Ferraris. While racing with Ferrari driver Lorenzo Bandini – piloting Ferrari's new prototype 330 P3 – Miles experiences brake failure and has his brake system replaced during his pit stop. Enzo Ferrari protests the move, but Shelby convinces race officials that the replacement is legal. Miles and Bandini once again duel on the Mulsanne Straight until Bandini blows his engine, eliminating the Ferrari from the race. With three Ford teams in the top positions, Beebe orders Shelby to have Miles slow down for the other two Fords to catch up with him and provide the press with a three-car photo finish. Miles is initially against this decision, continuing to set new lap records near the end of the race, but decides to let Ford have their way on the final lap. Ultimately, McLaren is declared the winner on a technicality, but Miles is grateful to Shelby for giving him the opportunity to race at Le Mans.
Two months after Le Mans, while testing the J-car at Riverside International Raceway, Miles once again experiences brake failure and is killed in the resulting crash. Six months later, Shelby pays Miles' widow Mollie and son Peter a visit and gives Peter a wrench that Miles threw at him before winning an SCCA race at Willow Springs in 1963.
Ford continued its winning streak at Le Mans in 1967, 1968, and 1969. Miles was posthumously inducted into the Motorsports Hall of Fame of America in 2001.
Community content is available under
CC-BY-SA
unless otherwise noted.