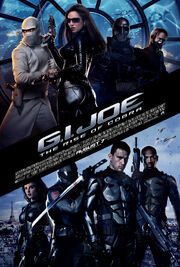 G.I. Joe: The Rise of Cobra
is a 2009 American military science fiction action film based on the G.I. Joe toy franchise, with particular inspiration from the comic book and cartoon series G.I. Joe: A Real American Hero. The film is directed by Stephen Sommers, produced by Lorenzo di Bonaventura and co-written by Stuart Beattie, based on a 1998 screenplay by John Paul Kay. G.I. Joe features an ensemble cast based on the various characters of the franchise. The story follows two American soldiers, Duke and Ripcord, who join the G.I. Joe Team after being attacked by Military Armaments Research Syndicate (M.A.R.S.) troops. After leaked drafts of the script were criticized by fans, Larry Hama, writer of the comic, was hired as creative consultant, and rewrites were made. Filming took place in Downey, California, and Prague's Barrandov Studios, and six companies handled the visual effects. The film was released on August 7, 2009, worldwide, following an extensive marketing campaign focused on the Mid-American public. The Rise of Cobra opened at the top of the box office and grossed over $302 million worldwide by the end of its run. Critical reception was generally mixed. The sequel, G.I. Joe: Retaliation, was released on March 28, 2013.
Community content is available under
CC-BY-SA
unless otherwise noted.