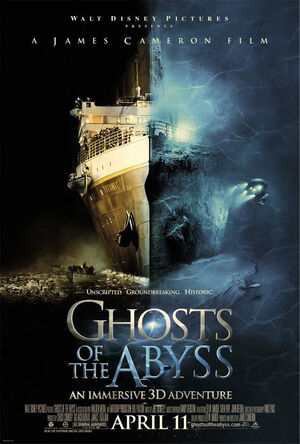 Ghosts of the Abyss is a 2003 documentary film released by Walt Disney Pictures and Walden Media. It was directed by Academy Award-winning filmmaker James Cameron after his 1997 Oscar-winning film Titanic. During August and September 2001, Cameron and a group of scientists staged an expedition to the wreck of the RMS Titanic, and dive in Russian deep-submersibles to obtain more detailed images than anyone has before. With the help of two small, purpose-built remotely operated vehicles, nicknamed"Jake" and "Elwood", the audience too can see inside the Titanic and with the help of CGI, audiences can view the ship's original appearance superimposed on the deep-dive images.
Also along for the ride Cameron invites friend and actor Bill Paxton who played Brock Lovett in the 1997 film. He narrates the event through his eyes. The film itself was premiered for IMAX 3D and was also nominated for a BFCA award for Best Documentary. The submersibles Mir 1 and Mir 2 carried the filming team on twelve dives.[2] The film is also known as Titanic 3D: Ghosts of the Abyss.[3][4]
James Cameron and Bill Paxton, director and actor of the 1997 film Titanic, travel to the final undersea resting place of the ill-fated ship of dreams.
Don Lynch as Titanic

'

s designer Thomas Andrews
Ken Marschall as IMM President J. Bruce Ismay
Miguel Wilkins as Qm. Robert Hichens
Federico Zambrano as John Jacob Astor IV
Dale Ridge as Elizabeth Lines
Judy Prestininzi as Molly Brown
Adrianna Valdez as Helen Churchill Candee
Justin Shaw as Wireless Officer Jack Phillips
Thomas Kilroy as a person who plays poker
Charlie Arneson as First Officer William McMaster Murdoch|William Murdoch
Piper Gunnarson as Madeleine Astor
John Donovan as Captain Edward Smith
Janace Tashjian as Edith Russell
Jesse Baker as Charles Lightoller
Justin Baker as junior wireless operator Harold Bride
Aaron C. Fitzgerald as Lookout Frederick Fleet
Community content is available under
CC-BY-SA
unless otherwise noted.