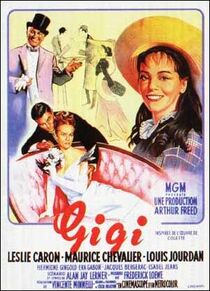 The First Lerner-Loewe Musical Since "My Fair Lady"
Budget
$3.3 million (estimated)
Gigi is a 1958 motion picture musical set in Paris, France. It is based on the bestselling novel by French author, Colette. It is considered the last great MGM musical.
In additional to numerous awards, the film also has been selected for preservation in the United States National Film Registry.
Primary cast
Edit
The film was nominated for an Oscar in nine categories, and won all nine.
Nominations
Edit
In turn-of-the-century Paris, Gaston Lachaille is a bon vivant much like his uncle, Honore (who thanks heaven for little girls). But Gaston is becoming bored with the high life ... especially the women. He only truly enjoys the time that he spends with one of his uncle's old friends, Madame Alvarez, and her grand-daughter, the precocious and carefree Gigi. Gigi is being groomed to follow in her grandmother's footsteps as a famous courtesan. It suddenly occurs to Gaston that he could become her first protector, but the situation makes him uneasy until he discovers that he's in love with Gigi and wants to marry her.
A copy of the soundtrack album is seen on the cover of the 1969 Pink Floyd album Ummagumma.
Community content is available under
CC-BY-SA
unless otherwise noted.