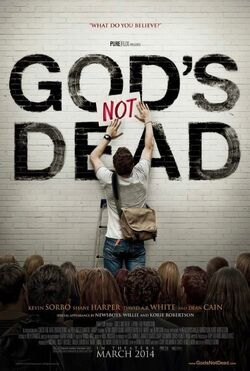 "What do you believe?"
Produced By
Michael Scott
Russell Wolfe
Anna Zielinski
Written By
Chuck Konzelman
Cary Solomon
Cinematography
Brian Shanley
Distributed By
Pure Flix Entertainment
Release Date
March 21, 2014
Rating

God's Not Dead is a 2014 American Christian drama film directed by Harold Cronk and starring Kevin Sorbo, Shane Harper, David A. R. White, and Dean Cain. The film was released theatrically on March 21, 2014.
A sequel God's Not Dead 2 was released on April 1, 2016.
College student Josh Wheaton (Shane Harper) attends a philosophy class, where the uncompromising Professor Jeffrey Radisson (Kevin Sorbo) requires all students to agree in writing that the Christian god is "dead". When Josh refuses on account of his Christianity, the Professor challenges him to defend his position that his god is real, which leads to a series of confrontational presentations by himself and the professor in turn, each making their case in front of the class, before a final debate. At the same time, Reverends Dave and Jude attempt to leave town but are hindered by curious minor accidents, student Ayisha is at odds with her father Misrab's conservative religious principles, and Mark, who is some kind of businessman, acts cynically towards his mentally ill mother, while his journalist girlfriend receives bad news from a doctor. Willie and Korie Robertson also appear in town to speak at a concert for a band called The Newsboys, but this doesn't relate to any of the other plots.
Community content is available under
CC-BY-SA
unless otherwise noted.