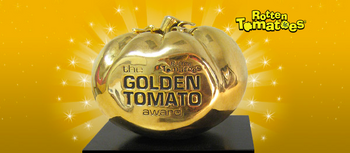 In 2000, Rotten Tomatoes announced the RT Awards honoring the best-reviewed films of the year, according to the website's rating system. This was later renamed the Golden Tomato Awards. The nominees and winners are announced on the website, although there is no actual ceremony.
Films are divided into wide release and limited release categories. Limited releases are defined as opening in 500 or less theaters at initial release. Platform releases, movies initially released under 600 theaters but later receiving wider distribution, fall under this definition. Any film opening in more than 600 theaters is considered wide release. There are also two categories purely for British and Australian films. The "User" category represents the highest rated film among users, and the "Mouldy" award represents the worst-reviewed films of the year. A movie must have 40 (originally 20) or more rated reviews to be considered for domestic categories, and it must have 500 or more user ratings to be considered for the User category.
Films are further classified based on film genre. Each movie is eligible in only one genre, aside from non-English films, which can be included in both their genre and the respective "Foreign" category.
Once a film is considered eligible, its "votes" are counted. Each critic from the website's list gets one vote (as determined by their review), all weighted equally. Because reviews are continually added, manually and otherwise, a cutoff date at which new reviews are not counted toward the Golden Tomato awards are initiated each year, usually the first of the new year. Reviews without ratings are not counted toward the results of the Awards.