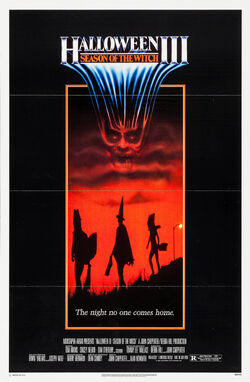 The night no one comes home.
Directed By
Tommy Lee Wallace
Produced By
Debra Hill
John Carpenter
Written By
Tommy Lee Wallace
Cinematography
Dean Cundey
Music By
John Carpenter
Alan Howarth
Studio
Dino De Laurentiis Corporation
Debra Hill Productions
Release Date
October 22, 1982
Rating


Halloween III: Season of the Witch is a 1982 American horror film directed by Tommy Lee Wallace. The cast of the film consists of Tom Atkins, Stacey Nelkin, and Dan O'Herlihy.
To be added
To be added
Community content is available under
CC-BY-SA
unless otherwise noted.