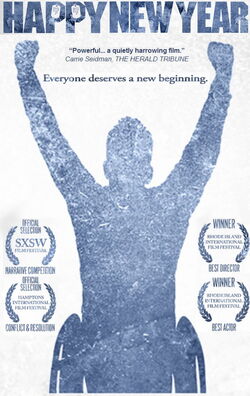 Everyone deserves a new beginning.
Directed By
K. Lorrel Manning
Produced By
Michael Cuomo, Victoria Hay, Karl Jacob, K. Lorrel Manning, Tom Stein
Written By
Michael Cuomo, K. Lorrel Manning
Cast
Michael Cuomo, J.D. Williams, Monique Gabriela Curnen, Tina Sloan
Distributed By
One Light Left
Release Date
December 7, 2012
Rating


Happy New Year is a narrative feature film that puts a human face on veterans and post-traumatic stress.
Staff Sgt. Cole Lewis a war-torn Marine who returns home to face his fiercest battle yet --- the one against himself. Lewis, scarred with mental and physical wounds from combat in Iraq and Afghanistan, begins to find humanity, compassion and friendship among a group of similarly injured soldiers in the psychiatric ward at a remote veterans hospital. The men – survivors of World War II, Vietnam, and recent conflicts in the Middle East--become Lewis's new family. With them, he will attempt to redefine his sense of self, and find a new place in the world. Through humor and pathos, Lewis becomes a ray of hope in the ward, as the men find a way to overcome their post-war trauma. But just as their luck starts to change, Lewis faces his fiercest battle yet.
Related Links
Edit
Community content is available under
CC-BY-SA
unless otherwise noted.