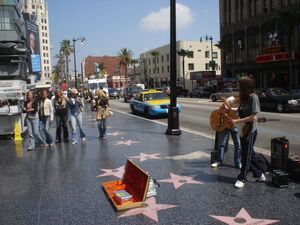 The Hollywood Walk of Fame is a famous sidewalk along Hollywood Boulevard and Vine Street in Hollywood, Los Angeles, California, United States, which is embedded with more than 2,000 five-pointed stars featuring the names of celebrities honored by the Hollywood Chamber of Commerce for their contributions to the entertainment industry.
The first star, awarded on February 9, 1960, went to Joanne Woodward. On January 16, 2007, Donald Trump was honored [1], and his became the 2,327th star on the walk.
The Walk of Fame runs east to west on Hollywood Boulevard from Gower Street to La Brea Avenue, and north to south on Vine Street between Yucca Street and Sunset Boulevard. Locations of specific stars are permanent, except when occasionally relocated for nearby construction or other reasons.
Each star consists of gold comprising a pink five-pointed star rimmed with bronze and inlaid into a charcoal square. Inside the pink star is the name of the honoree inlaid in bronze, below which is a round bronze emblem indicating the category for which the honoree received the star. The emblems are:
However, Disneyland's star has an emblem of a building.
Nominations are submitted annually by May 31, and the Walk of Fame committee meets the following month to pick the next year's group of honorees. Star ceremonies are open to the public and are led by Johnny Grant, Hollywood's Honorary Mayor.
The Walk of Fame was created in 1958 by southern Californian artist Oliver Weismuller, who was hired by the city to give Hollywood a "face lift". Many honorees received multiple stars during the initial phase of installation for contributions to separate categories; however, the practice in recent decades has been to honor individuals not yet represented, with only a handful of previous honorees being awarded additional stars. In 1978, the City of Los Angeles designated the Walk of Fame as a Cultural/Historic Landmark.
The Walk of Fame began with 2,500 blank stars. A total of 1,558 stars were awarded during its first sixteen months. Since then, about two stars have been added per month. By 1994, more than 2,000 of the original stars were filled, and additional stars extended the Walk west past Sycamore to La Brea Avenue, where it now ends at the Silver Four Ladies of Hollywood Gazebo (with stars honoring The Beatles and Elvis Presley).
The Walk of Fame is maintained by the self-financing Hollywood Historic Trust. In order for a person to get a star on the Walk of Fame, he or she must agree to attend a presentation ceremony within five years of selection, and a $25,000 fee must be paid to the Trust for costs such as security at the star ceremony; a 2003 FOX News story noted that the fee is typically paid by sponsors such as movie studios and record companies, as part of the publicity for a release with which the honoree is involved. On other occasions, the fee is paid by a fan club or the nominating person or organization.
However, controversy and mystery surrounds the way the "Stars" are nominated and approved, as discussed in a 2001 ABC News story that interviewed honorary Hollywood mayor Johnny Grant.
Four stars have been stolen from the Walk of Fame. Those of Jimmy Stewart and Kirk Douglas, which had been removed during a construction project, were stolen from the site on Vine Street. The culprit was a contractor who was later caught with the two stars, damaged and unusable, but not until after they had been replaced. One of Gene Autry's stars was also taken from another construction project. It was later found in Iowa. On November 27, 2005, thieves sawed Gregory Peck's star out of the sidewalk near Gower; the star has been replaced as of September 2006 but the thieves have not been caught.
Cameras are being placed in the walk district to catch thieves.
List of stars on the Hollywood Walk of Fame (on Wikipedia)
Community content is available under
CC-BY-SA
unless otherwise noted.